10 Ideas for designing smaller gardens.
The lovely, warm, summer days are upon us! As I laze about in the heat of my little garden space, I find myself desperate for a cool shady area, somewhere tranquil I can relax in, maybe even invite friends over. But where to start? How do I turn this little patch of ground into something special?
Firstly, its important start with a basic garden plan. Unplanned or haphazard gardens can make the space seem smaller! The first rule for any small garden is that even if it's tiny it should have a coherent design. A good idea is to start with a simple geometric layout for your garden beds and paving and seating area.
Here are some great suggestions from the team at Monkton Elm:
1. Make use of focal points
A good tip is to create a focal point. Using an arbour or pergola in your little garden is a classic landscaping hack, adding height and depth to a small space. You can do the same with vertical or raised beds, small trees, or garden sculptures or the use of mirrors.
2. Divide your garden up into specific areas. 
If you break up open areas of a small space so it feels larger. Use paving and furniture to create spaces within your garden. Paths divide a small backyard landscape into attractive and restful seating nooks or plant areas.
3. Get creative with Raised Beds
Raised beds or vertical beds make an excellent focal point and create additional space. Wooden raised beds are one of the most versatile items in the gardener's tool kit.
4. Make use of vertical space
Create unique vertical space features such as hanging gardens or pallet gardens. No matter your budget, a bit of creativity goes a long way! Whether its hanging pots or using old pallets or shelving on your outside wall, the use of vertical areas to extend the feel of your garden really can enhance the space.
5. Choose the right plants for the job
Plant selection is very important. Place bold, bright flowers right in view. Because your eye automatically goes to them, the rest of the small garden landscape will seem to recede and feel larger. Foliage and texture can create a lush feel, especially in a small landscape. Plants with larger leaves can manipulate the scale of a small backyard to help it feel larger.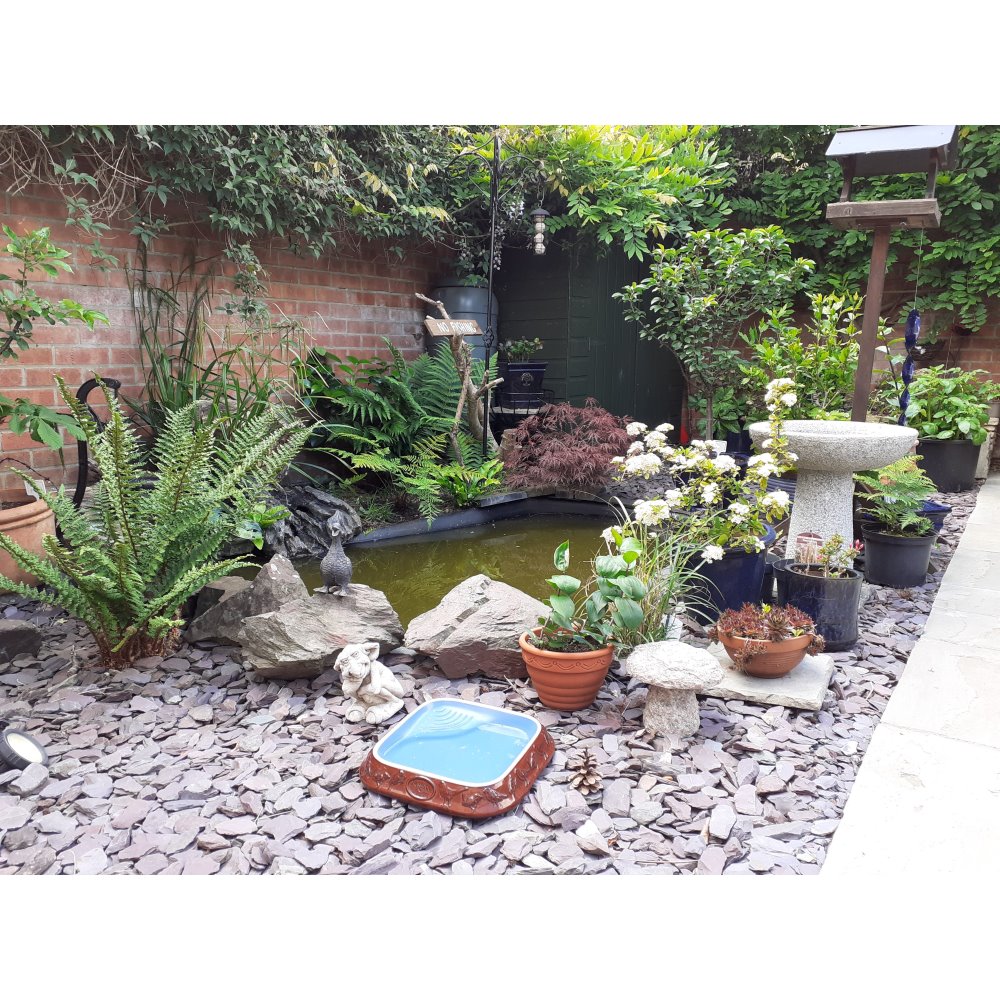 6. Add some pots to your Garden
Pots and container planting can brighten a small garden, create focal points or fill in awkward spaces. Pot or container gardening has never been more popular, or more versatile. With an almost unimaginable range of styles and sizes, and with prices starting at only a few pounds, there are pots to match your imagination from small balconies to large gardens. They also allow for seasonal planting, which can change the colour and tone of your garden.
7. Invest in garden storage and builidings
Even with a tiny garden, storage is always a challenge! There are many of options available. Combine two functions into 1 building. In this case "The Potter" from Regency Garden Buildings combines the practicality of a storage shed, with some of the benefits of a greenhouse. Available from 1.8m x 1.8m in 2 different layouts and a host of optional extras. and don't forget you can create your vertical garden along the walls and front of your storage shed.
.
8. Water features add a splash of life to any garden space
Water features and birdbaths – whether it's a wall mounted feature or free standing, water features and birdbaths add an excellent dimension to your garden, create peaceful soothing sounds and water also attracts wildlife
9. Find the perfect set of furniture for your garden.
Carefully select the furniture that best suits the space and your needs. If alfresco dining is your thing, concentrate on a dining area, or if you prefer using the garden for relaxing around a fire, that's the choice for you! Its often best to choose non-fixed outdoor seating so it can be moved when needed to create different spaces, and packed away when not in use.
10. Utilise your Garden's full potential with outdoor lighting
Lighting in small gardens adds another element to create atmosphere, the illusion of space and height. Solar stake lights in the garden are a great option because they're flexible, so you can move them around with ease, and they're incredibly easy to set up and use. Wall lights are a great option for small gardens and don't take up any floor space. Fairy lights are create a beautiful ambient atmosphere in the garden, use them to line plant pots, a garden arch, or hang them from a tree providing delicate light in specific areas, and are great for ensuring your small garden feels cosy. Up lights to highlight a garden feature or plants make a statement.
A world of possibilities
We hope you've come away from this piece feeling a little inspired. The beauty of Gardens is that no matter their size, there are a vast amount of methods available for you to make the most of the space you're given.
Whether it's the use of Garden Furniture, Patio kits, clever planting or even grand focal points. Your perfect garden is only ever a moment of inspiration away.