Delicious

F

ood & Drink

A

ll

Y

ear

R

ound
We are constantly sourcing fabulous local makers, growers, brewers, and farmers. Our ever-expanding offering focuses on top quality, local, and freshly delivered products using only the best ingredients! Why not try one of our bespoke hampers as a special gift for someone? We make up hampers to your preference, with delicious goodies such as chocolates, wines, ciders, cheeses, preserves and biscuits!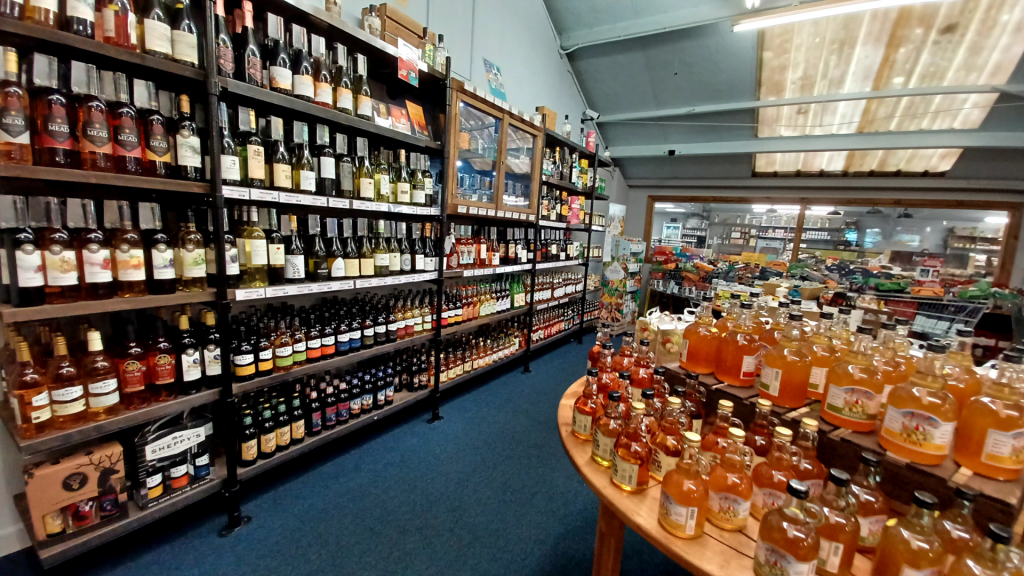 Deli
Our Deli is fast growing with delicious products cut to size or weight for your delight!
Fruit and Veg
Cheese
Milk
Farm Eggs
Bakery
Pies and Pasties
Preserves
Ready Meals
Alcohol
Meats
We have partnered with Pyne's of Somerset, a local and award-winning butchery that supplies our Deli with high quality British farmed meats.
We have a range of meats including bacon, hamburger patties, Pyne's famous sausages, chicken parcels and marinated pork belly slices. W also hand-cut our selected meats to order by our trained staff.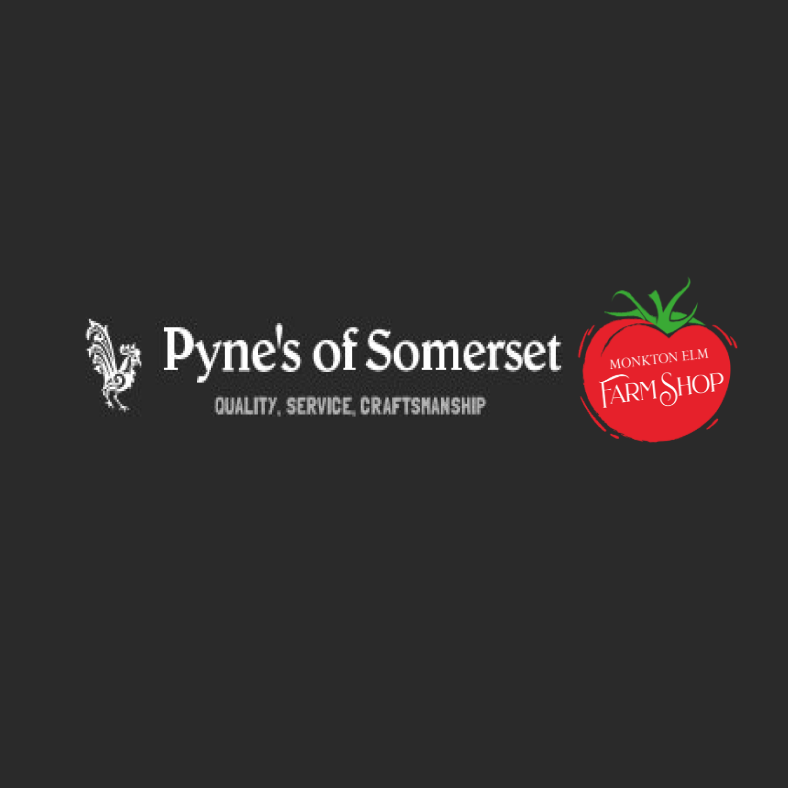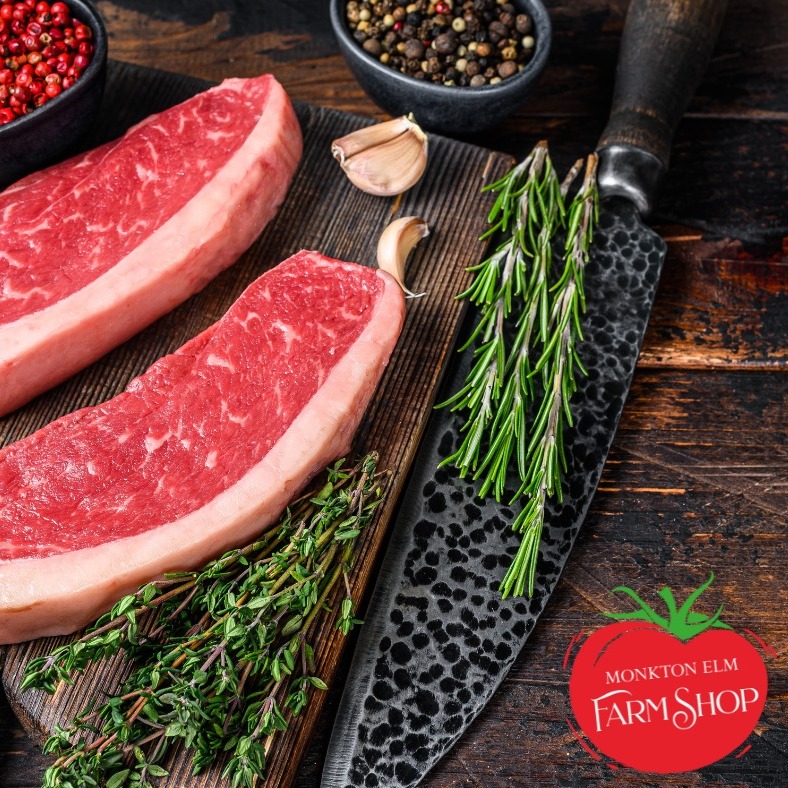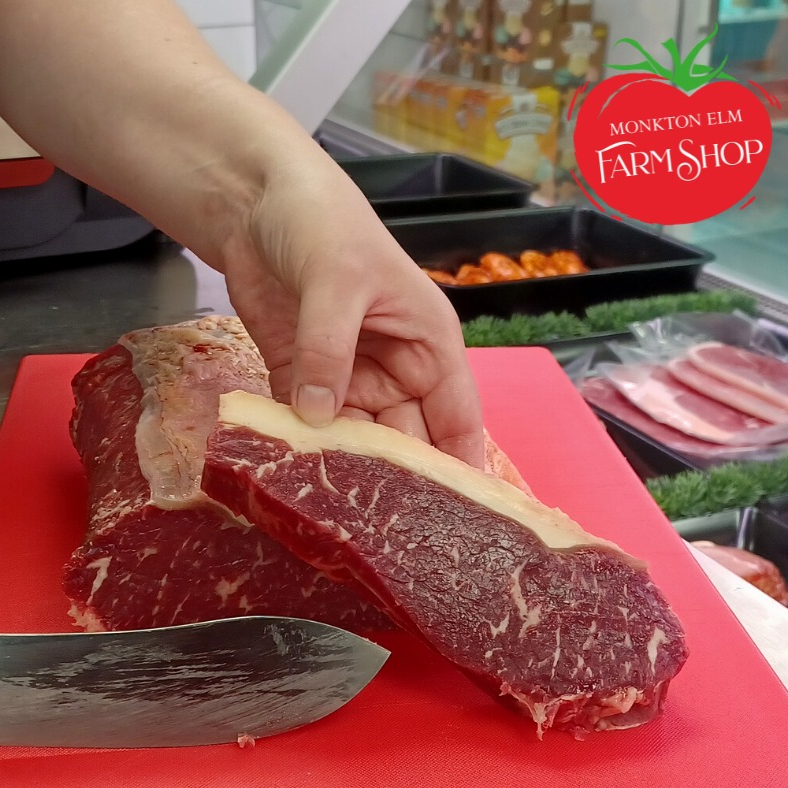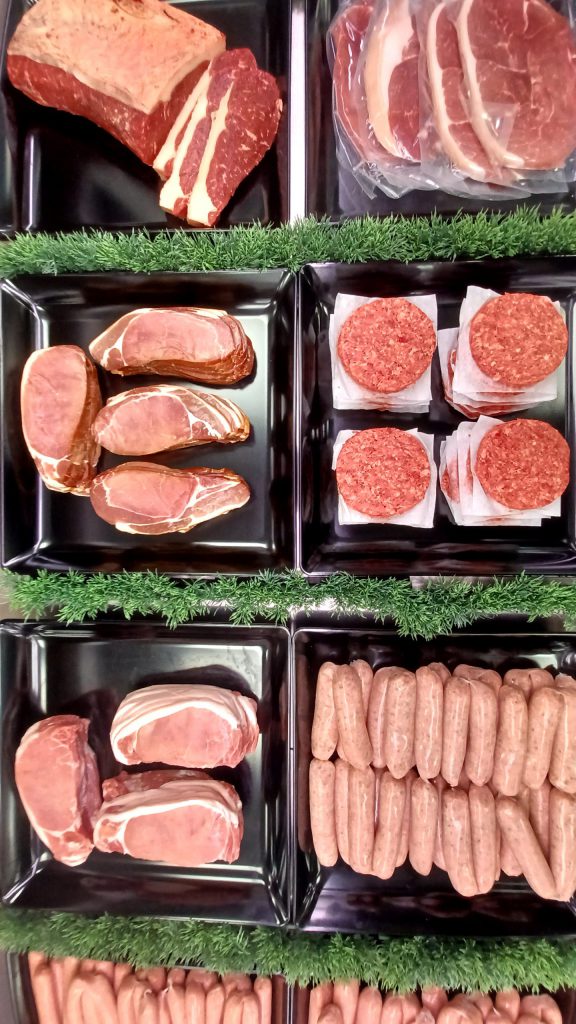 Fruit and Veg
We stock various seasonal fruit and veg from local suppliers, beautiful, fresh, local, organically grown fruits and vegetables for your kitchen!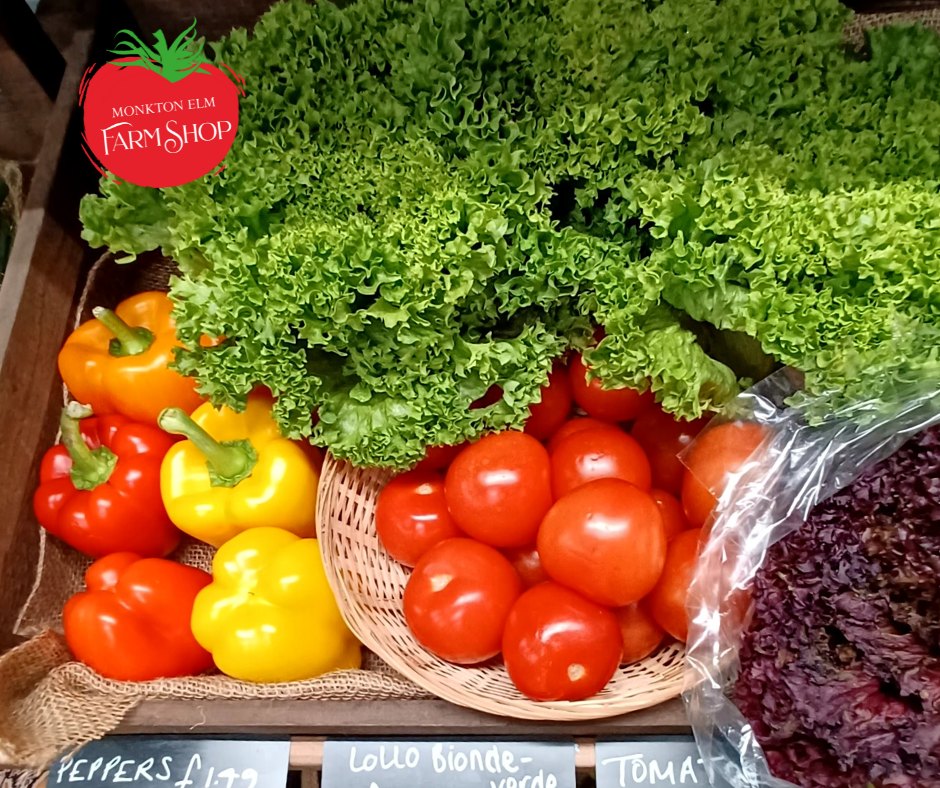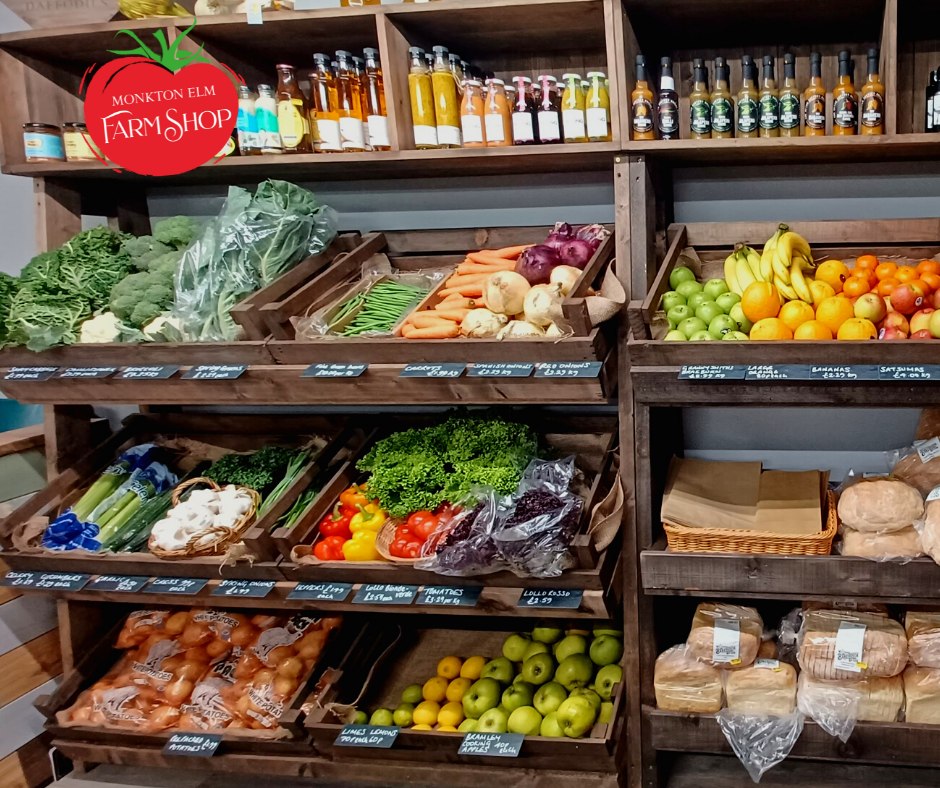 Our range of cheeses have been carefully selected from premium local suppliers, we have cave aged cheddars from Cheddar gorge, beautiful hard cheeses from Glastonbury and delectable soft cheeses from Dorset and Somerset.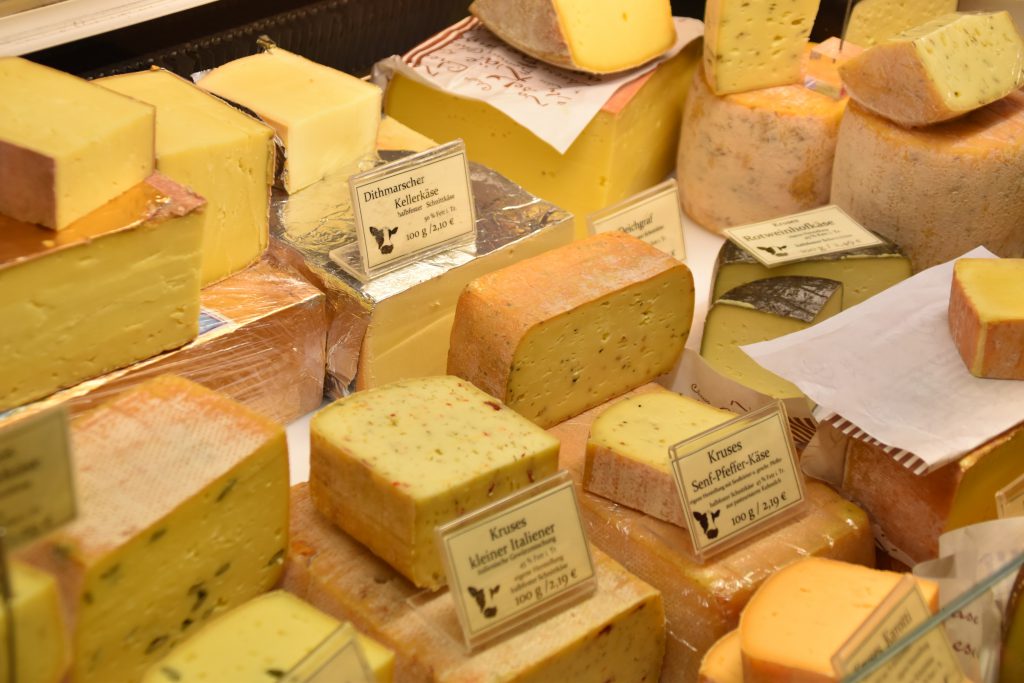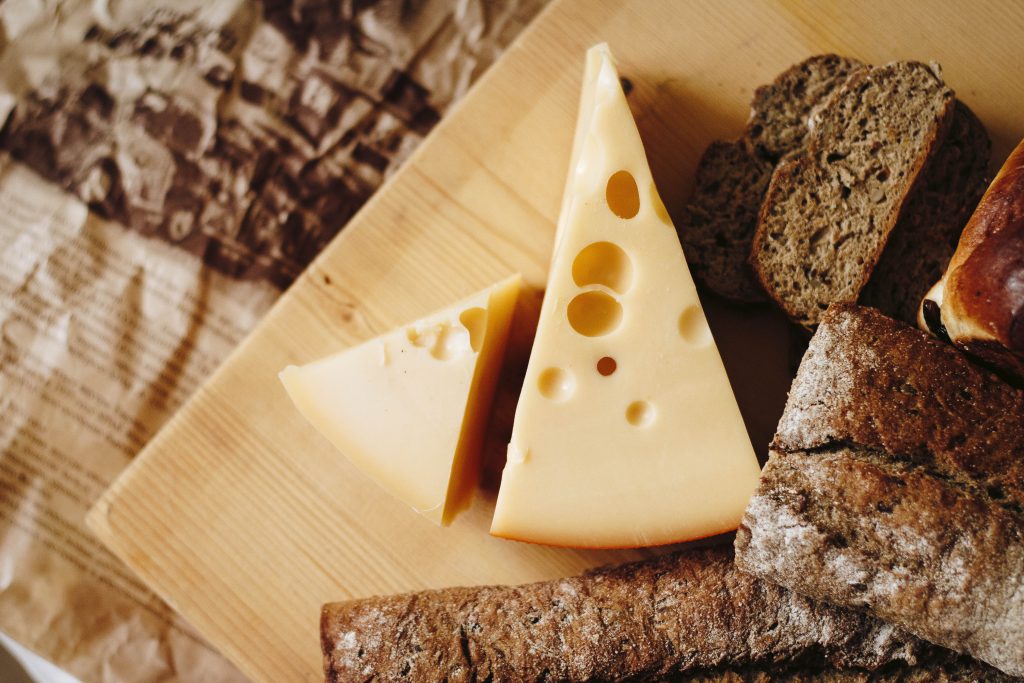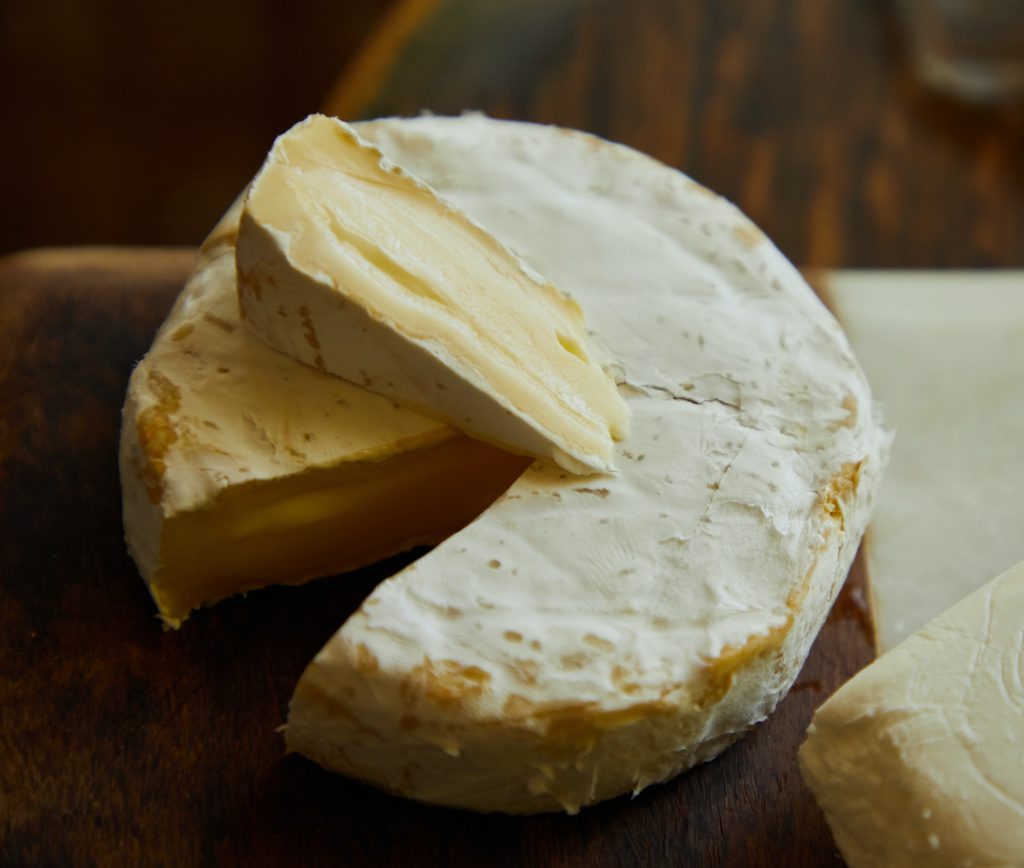 Milk and Milkshakes
Milk
Gundenham Dairy produces, processes, bottles, packages, and distributes their milk, meaning a faster and fresher delivery of delicious farm milk. Their milk is 100% pure – nothing added and nothing taken away!
We have a dispensing machine with refillable glass bottles to ensure less wastage, no packaging or plastic is used in our milk products.
Milkshakes
We have delicious milkshakes available in our farm shop and fresh, organic milk – better for you, your family, and the environment.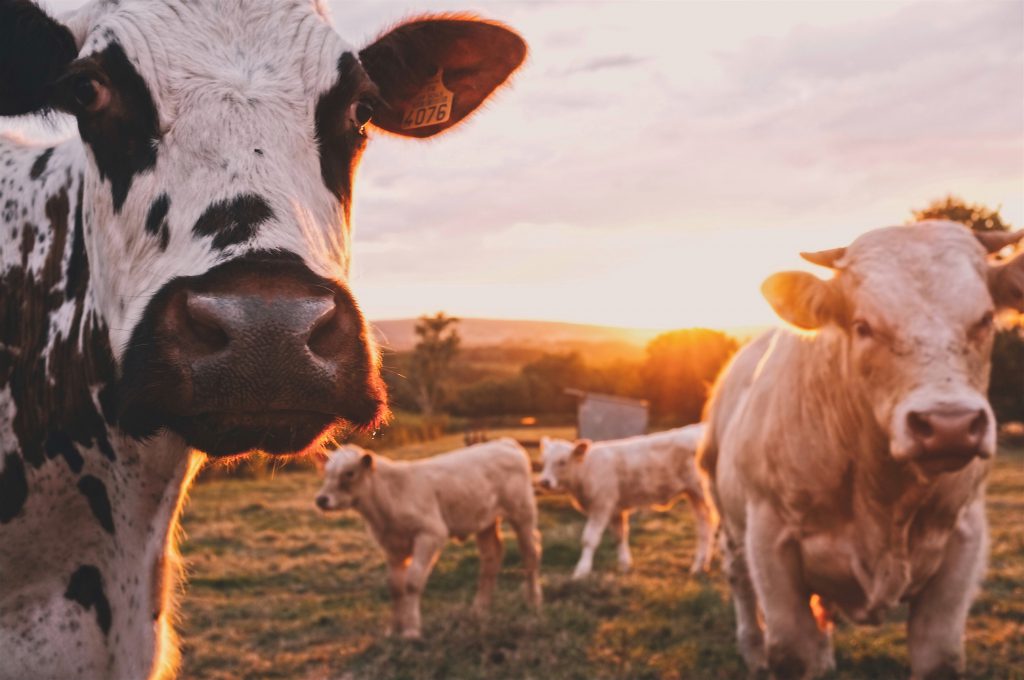 Fenton Farm Eggs
This 3rd generation family farm in Devon grows cereals for grain and straw – some of which are used for the hens. Fenton Farm Eggs are laid by hens in traditional free-range flocks where they have access throughout the day to green pasture where they roam freely and are fed specially formulated feed to enhance yolk colour.
Fenton Farm Eggs are laid by different breeds of hens, including Fenton Blues, which are bred from Cream Legbars and Araucanas and lay beautiful green/blue eggs. White Leghorns, a flightier bird that originates from the Leghorn region of Italy, lays pure white eggs, and a Rhode Island Red Cross lay traditional brown eggs.
The excellent and natural conditions in which the hens are kept results in exceptional quality eggs with strong shells, bright yolks, and superior flavour.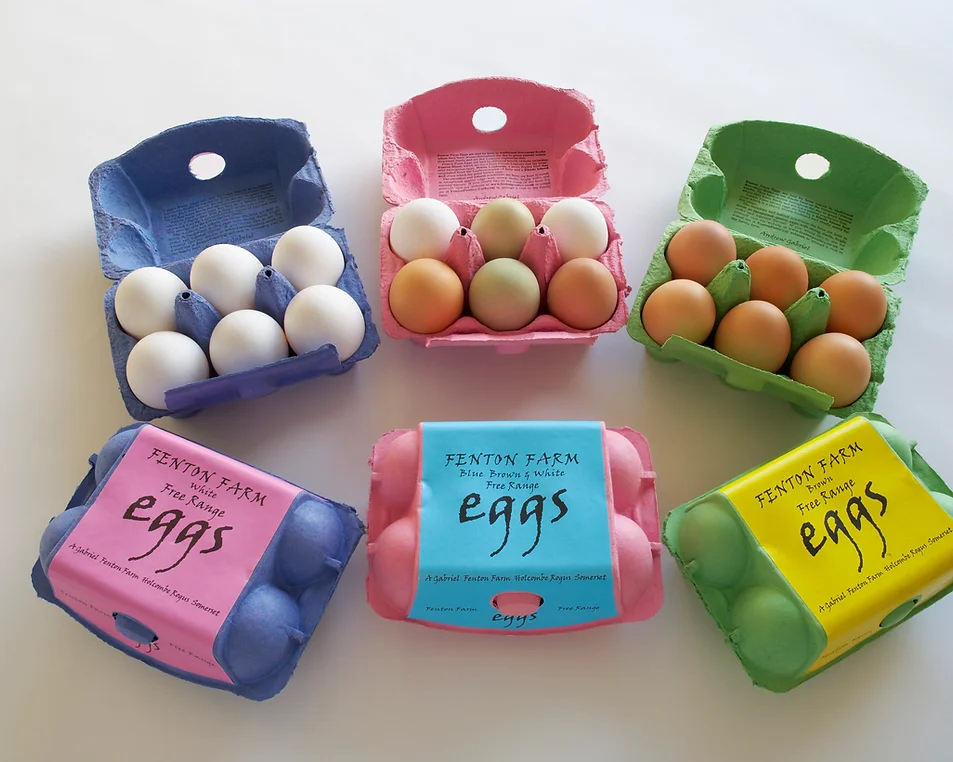 Bakery
Our popular bakery stocks freshly baked bread, rolls, scones, and cakes from local bakers.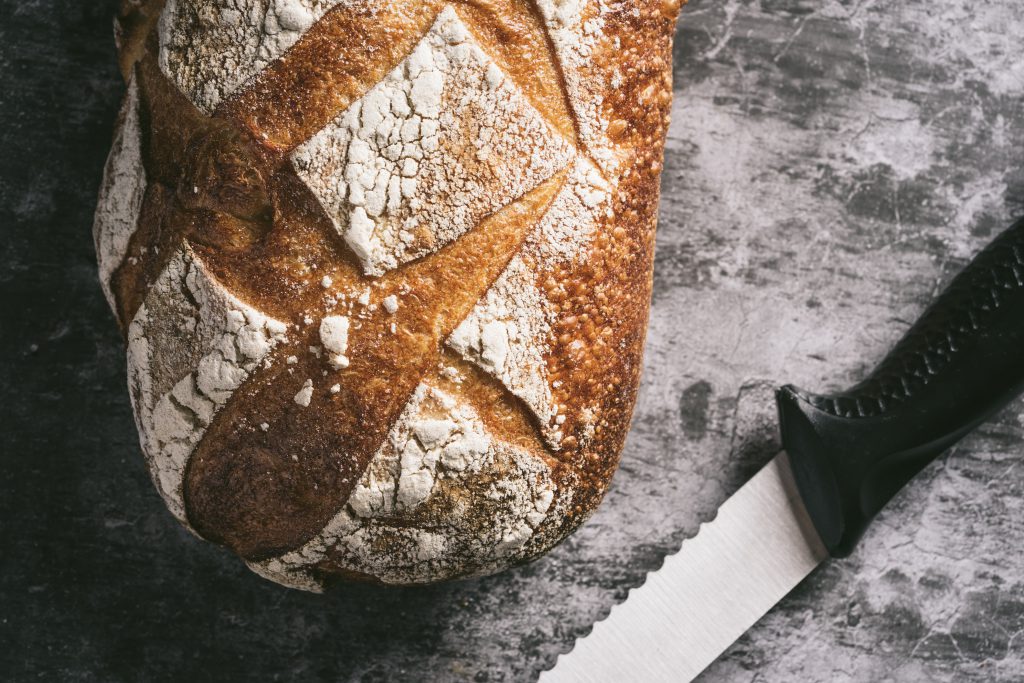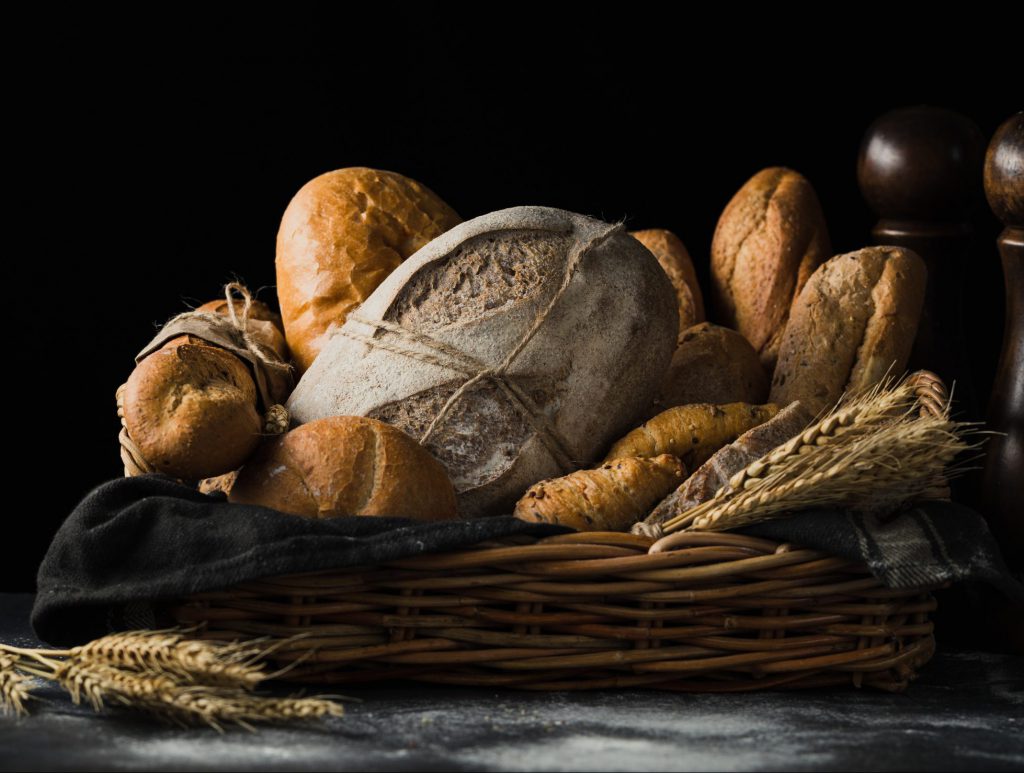 Farmhouse Pies and Pasties
Our Deli pies are all handmade using the best ingredients! Great to pick up for dinner on your way home.
Here are some of our farm shop pie reviews from our happy customers:
Charlotte, customer
'Absolutely stunning! Perfect filling to pastry ratio with delicious flavours 10/10 👌'
Victoria, customer
'Delicious pies! We have tried the Pork Pie, Homity Pie and the Steak and Stilton pie so far – all of them are tasty, great pastry and filling.'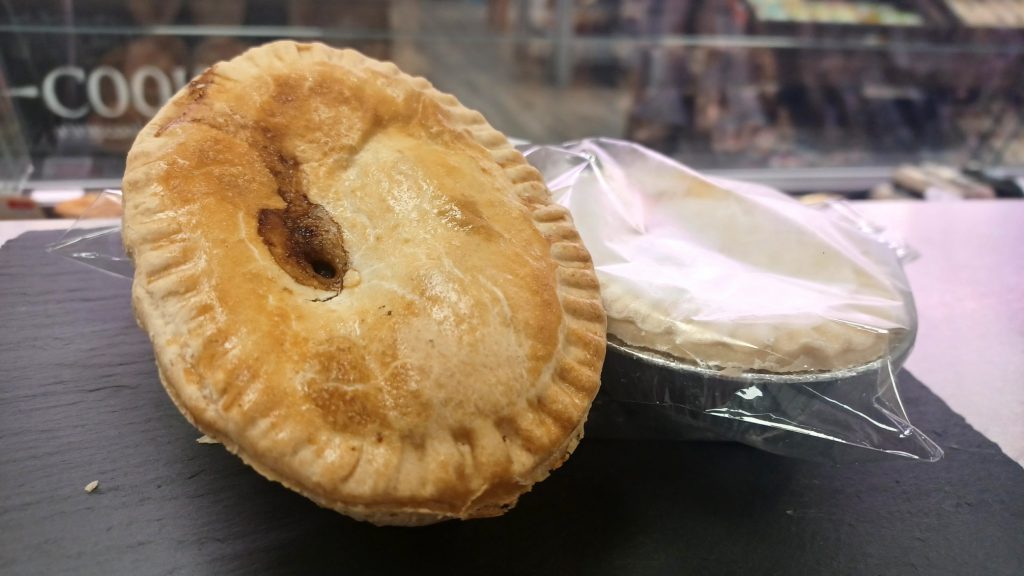 Preserves
We stock a beautiful range of local and handmade preserves in our farm shop – a range of jams and spreads including homemade preserves from Bumblee's Preserves. How much more local could you get! We could walk to Francine's kitchen where they are made just down the road at Creech St Michael!
You can also purchase preserves from the award-winning Waterhouse Fayre. These handmade preserves, chutneys, jams, relishes, and pickles are made locally and simply delicious!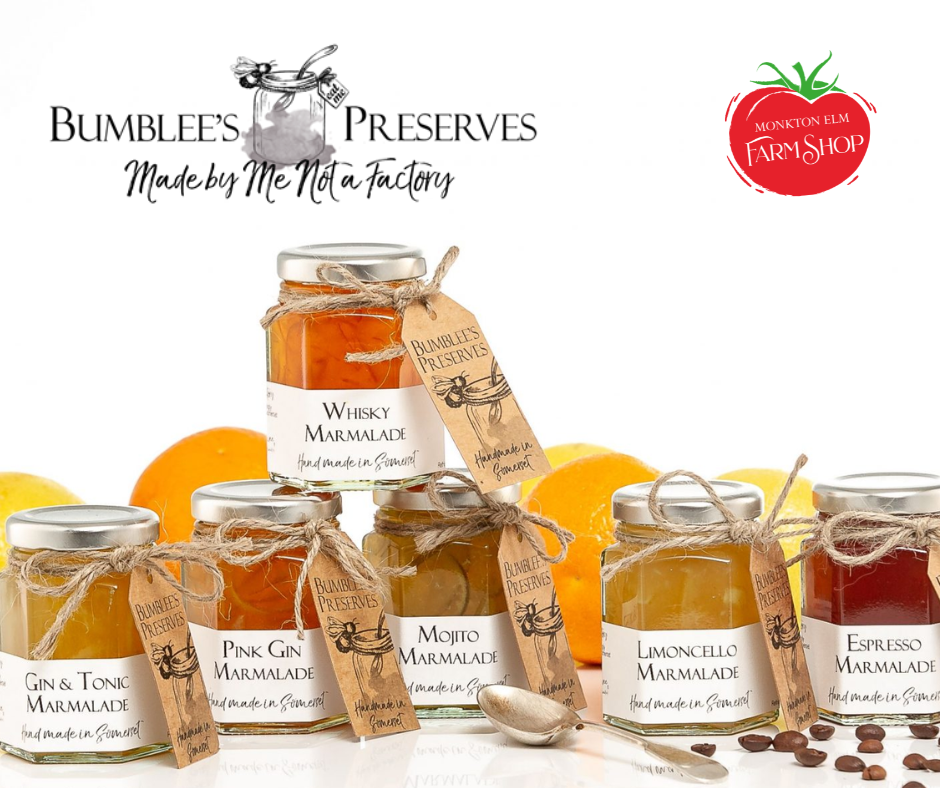 Bumblee's Preserves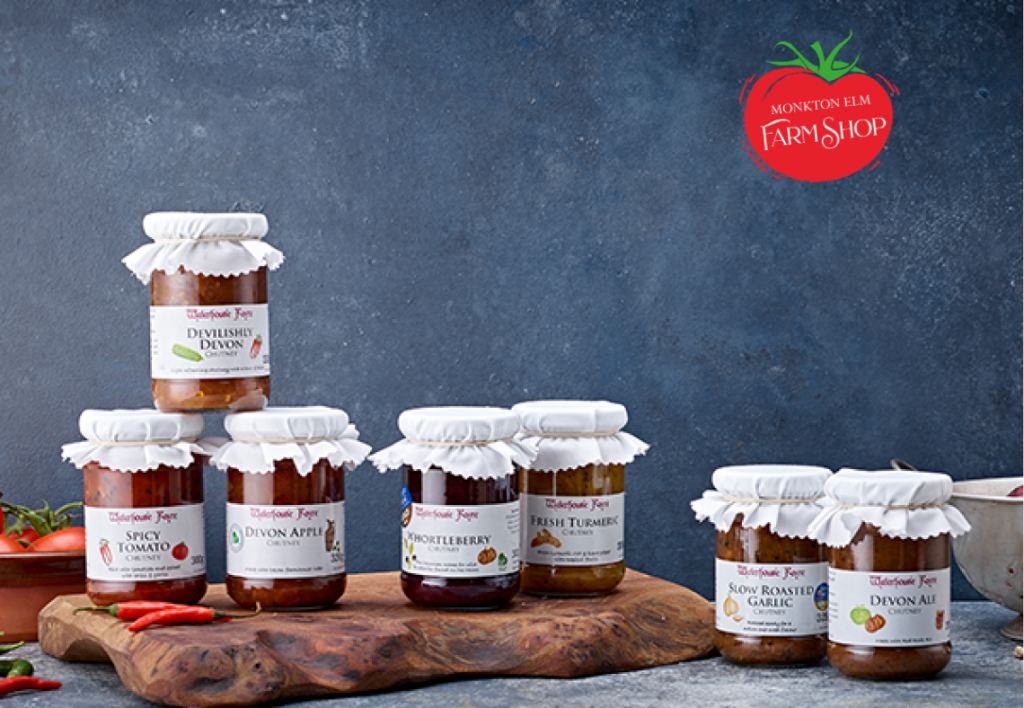 Waterhouse Fayre
Ready Meals
COOK
COOK was founded in 1997 by Ed and Dale – two big-hearted entrepreneurs with a little shop in Farnham and an old pizza delivery kitchen. Inspired by the taste of great home cooking, their dream was to find a better way of doing business: working for people and the planet, not just profit.
Today, COOK meals and puddings have picked up scores of Great Taste Awards and can be found in hundreds of independent shops all over the UK. Everything is still prepared by hand in over 90 of their own shops, and a thriving delivery service.
"We prepare our meals and puddings by hand, and we're obsessed with using the best ingredients from farmers and suppliers we trust." – COOK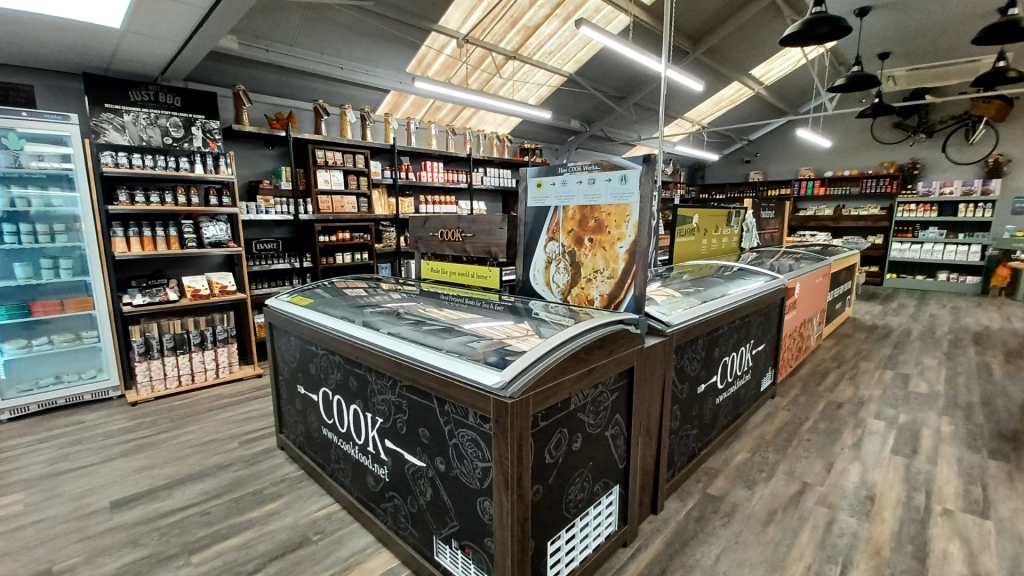 FIELDFARE
Delicious Loose Frozen Food.
Sold with as little waste and packaging as possible and available at farm shops, garden centre and independent stores across the UK.
Just pick, pack, weigh, and enjoy!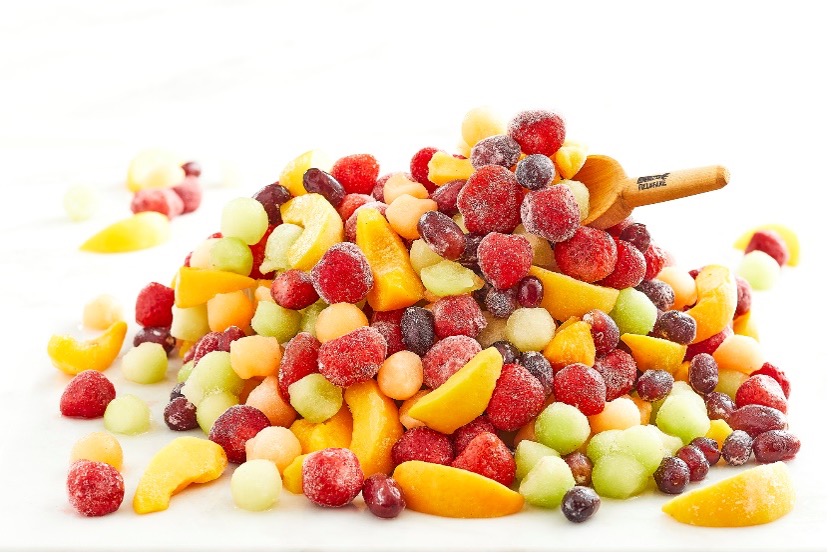 Alcohol
At Monkton Elm farm shop, we have a wide selection of craft spirits, wines, beers, and ciders. Where possible, these are sourced locally and are proudly British!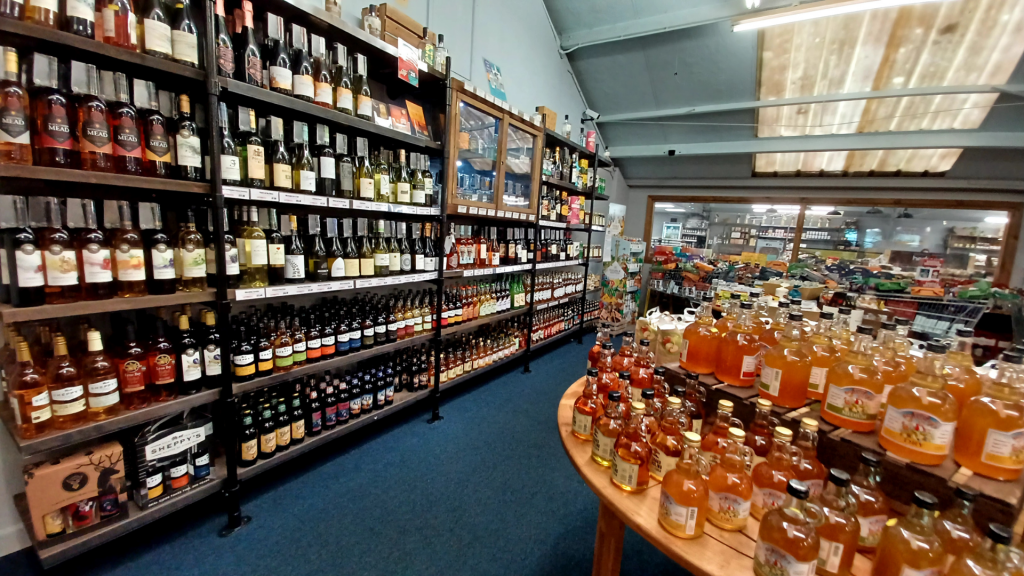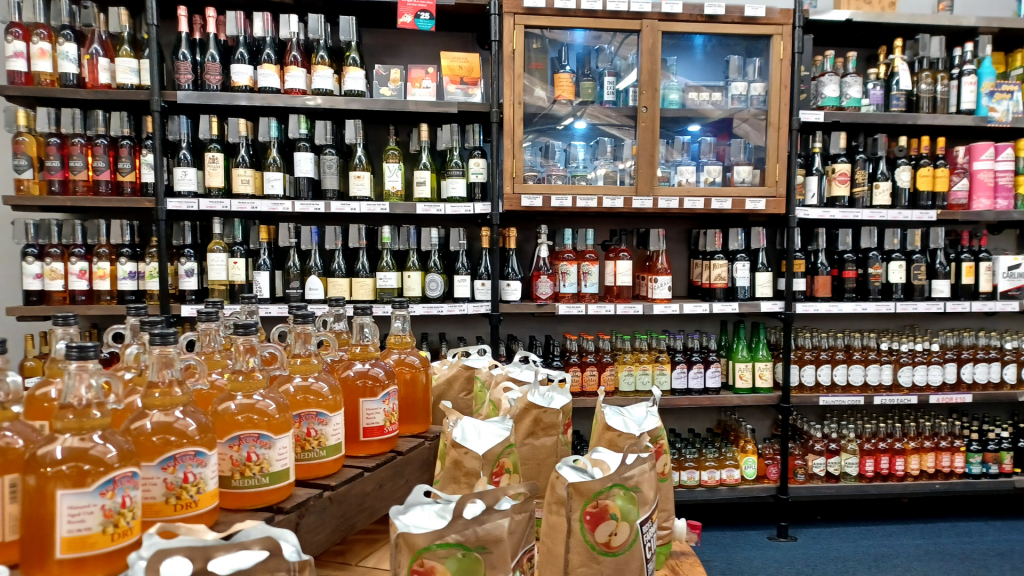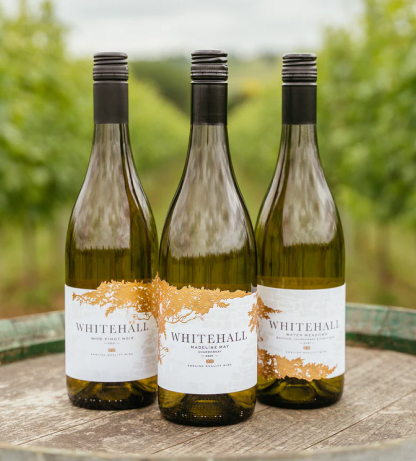 Wine
Our farm shop stocks a really great variety of local British wines. Our range from Whitehall Vineyards is particularly special, from gorgeous reds and refreshing whites to cans of deliciousness for barbecues or picnics. Whitehall Vineyard was established in 2017 with the support of a small team of planters. Since then, Whitehall has been carefully crafting wines with charming British flavours to enhance any dining experience or simply to enjoy on their own.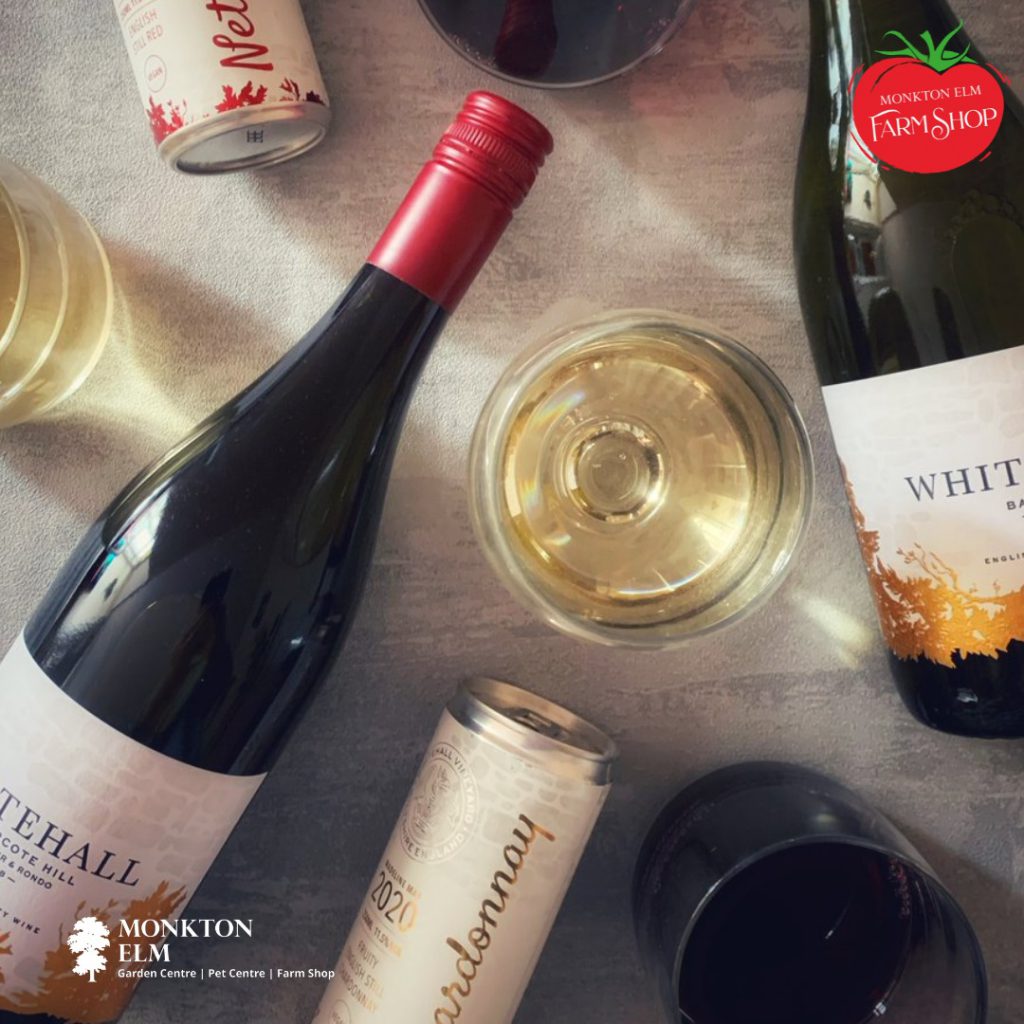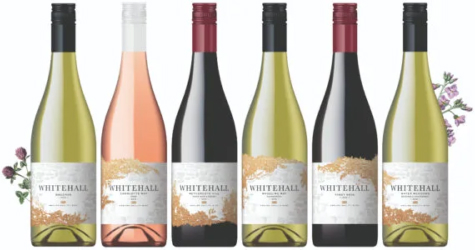 Cider
The signature drink of Somerset! We are proud to stock a range of traditional and fruit ciders from various local suppliers.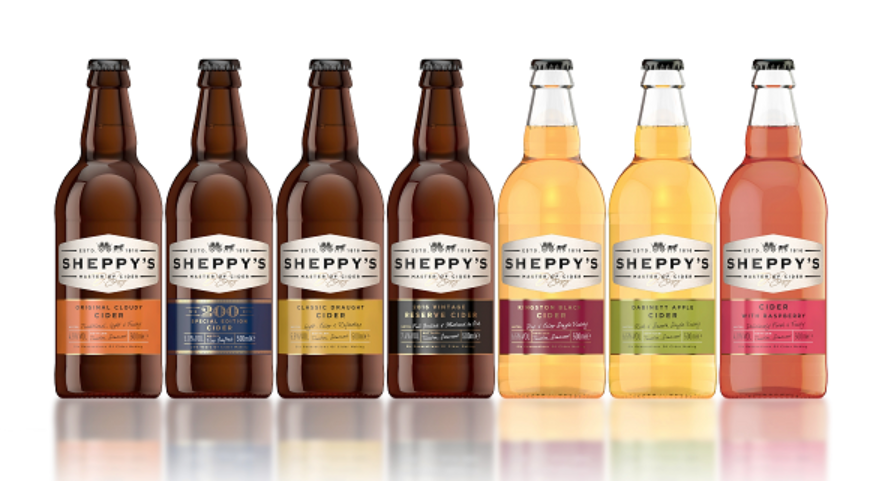 Nestled between Taunton and Wellington in the heart of Somerset. They're a family-run farm that's been lovingly crafting premium award-winning craft ciders for over 200 years, making them one of the oldest independent cider makers in the world.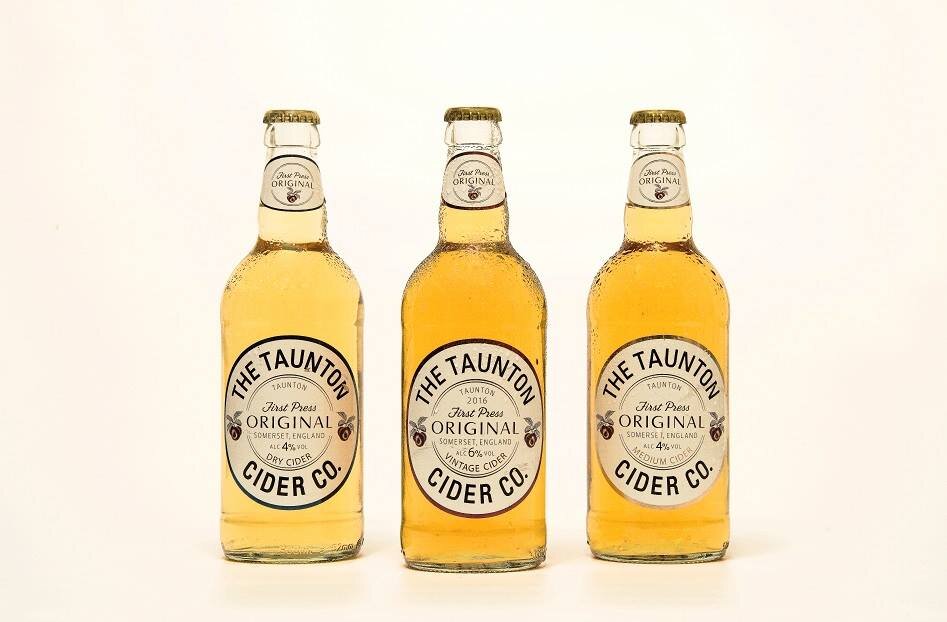 Taunton Cider
Taunton Cider prides themselves on only using apples grown in traditional orchards within a 30-mile radius of our office in central Taunton, right in the heart of Somerset.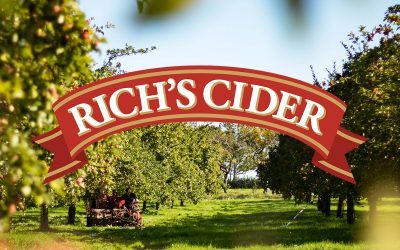 Rich's Cider
Rich's Cider is a family-run business who have been producing Traditional Farmhouse Cider and Pressed Apple Juice with locally harvested Somerset apples for nearly 70 years.
Ales
Exmoor Ales
Founded in 1979 on the edge of Exmoor in Wiveliscombe, Exmoor Ales was one of the pioneer 'Micro Breweries' to stand against the onslaught of keg ale flooding the market from the big brewers. Concentrating on crafting ales of character and flavour, they gained a following, helping lead to the cask ale revival of the early eighties.
Exmoor Ales's reputation for producing innovative ale was further confirmed when, in 1986, they produced Exmoor Gold, the first ever single malt Golden Ale. To this day, Exmoor Ales brewers continue to push the boundaries and produce ales with distinctive characteristics and the renowned, long Exmoor aftertaste.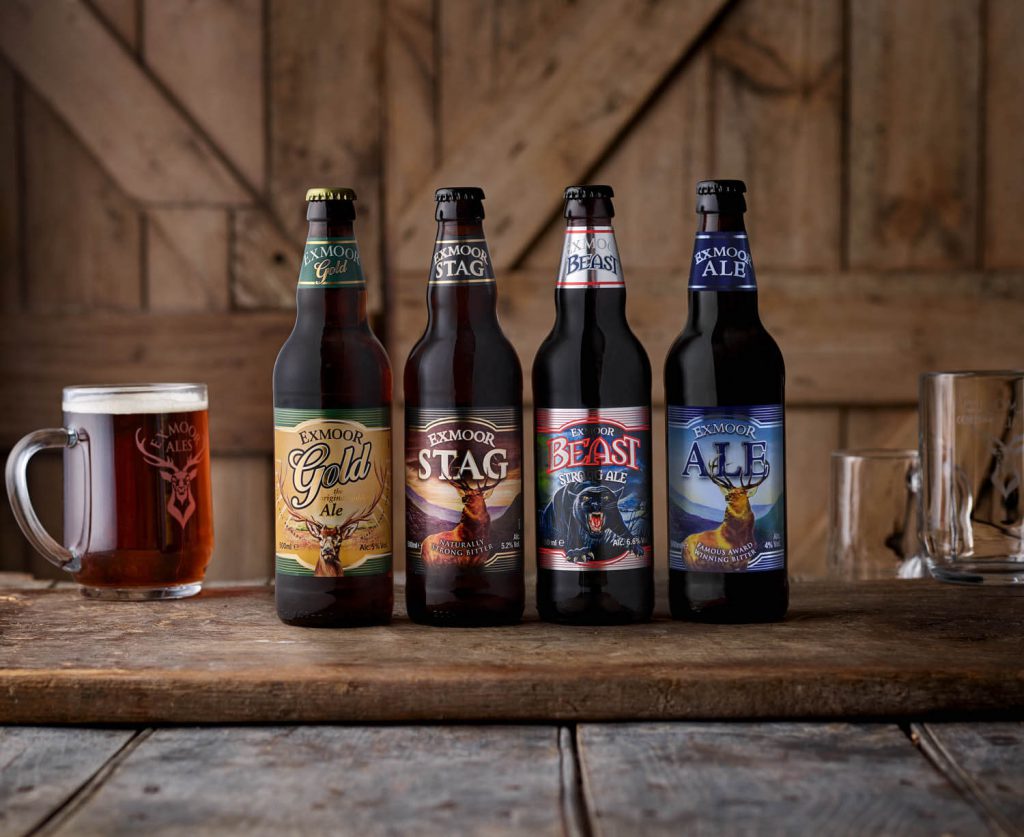 We have all this and much more, come and explore our wide range in our Farm Shop here at Monkton Elm Garden Centre.
Monkton Elm Farm Shop
Farm Shop opening hours:
Mon-Sat 9.00am – 5.30pm | Sun 10.15am – 4.15pm
Monkton Heathfield
Taunton
Somerset
TA2 8QN
Tel: 01823 412381
Email: Info@monkton-elm.co.uk