Unlock your garden's potential this summer
Your garden is a space filled with limitless possibility. An empty slate, ready and waiting to be moulded into the ultimate, relaxing summer bastion. With a little help from our experts, you will leave this blog with all the knowledge necessary to create your very own "Shangri-la".
Paving
Laying down some paving is a great way to create the perfect "hosting" space in your garden. Topped off with a beautiful set of garden furniture and perhaps a designated BBQ area, you'll be well on your way to creating the ultimate outdoor living space. A good patio will give you several options that will stand as a solid base to enable you to make the most of your garden.
Paving kits are a quick and easy way to lay the perfect patio. With a number of pre-made designs taking away the hassle of having to work out which slabs go where.
Or, if you'd rather something a little less elaborate, there are several paving slabs available. From your typical 450x450mm Sandstone slab to the wood effect steppingstone, there are a whole host of options available for you to choose from.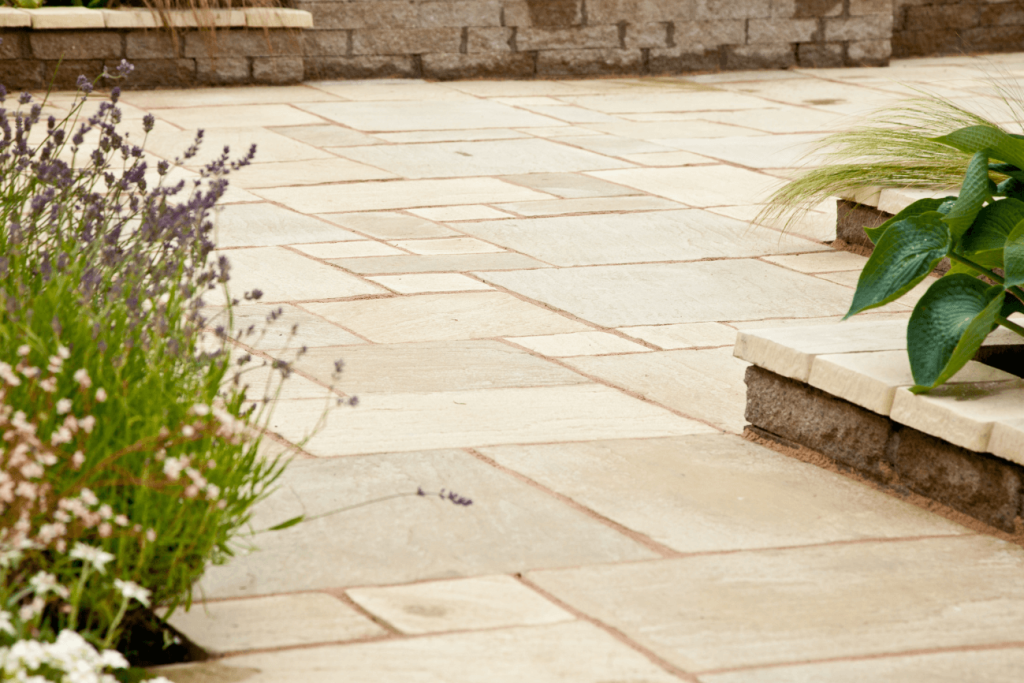 Aluminium Furniture
For a number of years now, Aluminium Furniture has been a popular option for those looking for a stress free, low maintenance approach to garden furniture.

Being rust free, the Aluminium construction means these sets can be left out all year (though, we would recommend covering them during the winter months) this also negates the need to find space to store them over the winter months, just clean them up in spring and enjoy those warm summer months.

At Monkton Elm, we recommend the Amalfi range of cast Aluminium furniture. Being Cast Aluminium, they are incredibly durable and do have some weight to their construction. With an ornate design and a glistening bronze effect finish. They truly are a standout piece.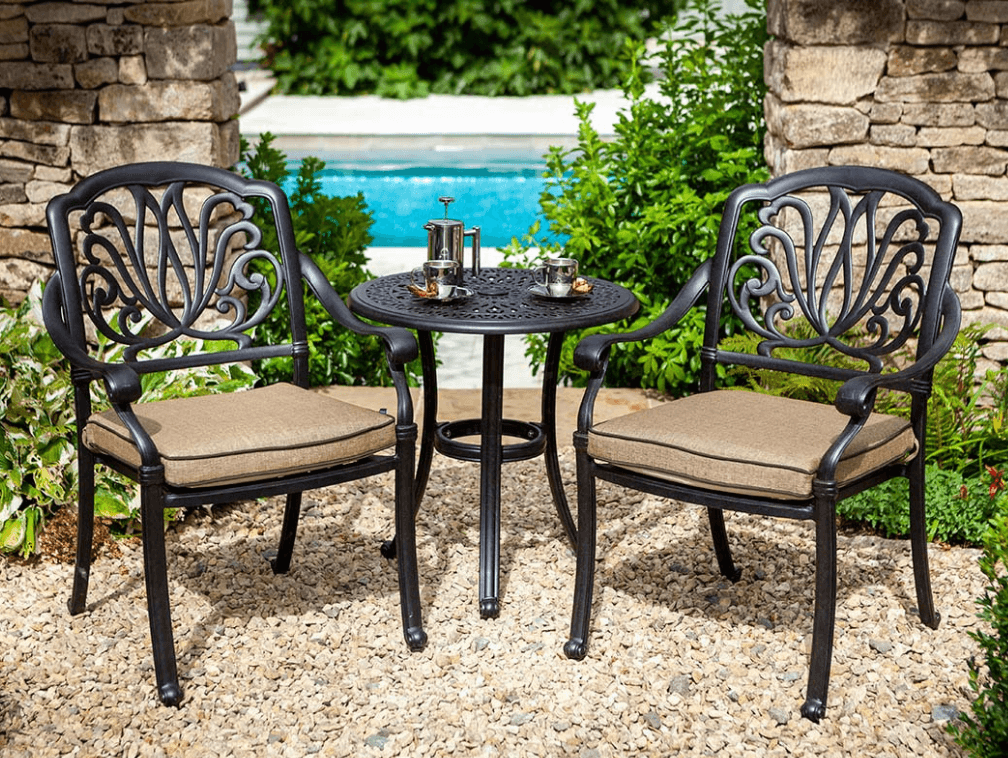 Weave Furniture
Weave furniture has always been popular amongst our customers and for good reason.
Mostly being made from U.V resistant resin weave, modern Weave furniture is designed to stand the test of time. With most companies championing hand-woven designs wrapped around durable Aluminium frames.
For 2023 we have several weave ranges, including the Valencia and Heritage sets. The Valencia comes in a range of three corner units of varying sizes, from compact corner unit up to the curved corner unit. All of which are very easy to clean, with glass topped tables height adjustable tables and weather resistant cushions, all coming with a two-year guarantee.
The Heritage sets, consist of half round weave sets (with full round weave trimmings) wrapped around Aluminium framework with Tuscan, ceramic glass topped tables and weather resistant cushions made to the highest standard and beautifully finished.

If you have a decently sized patio area, a weave corner unit may be the way for you. With the highest amount of available seating, they stand as a very good way of maximising your garden space.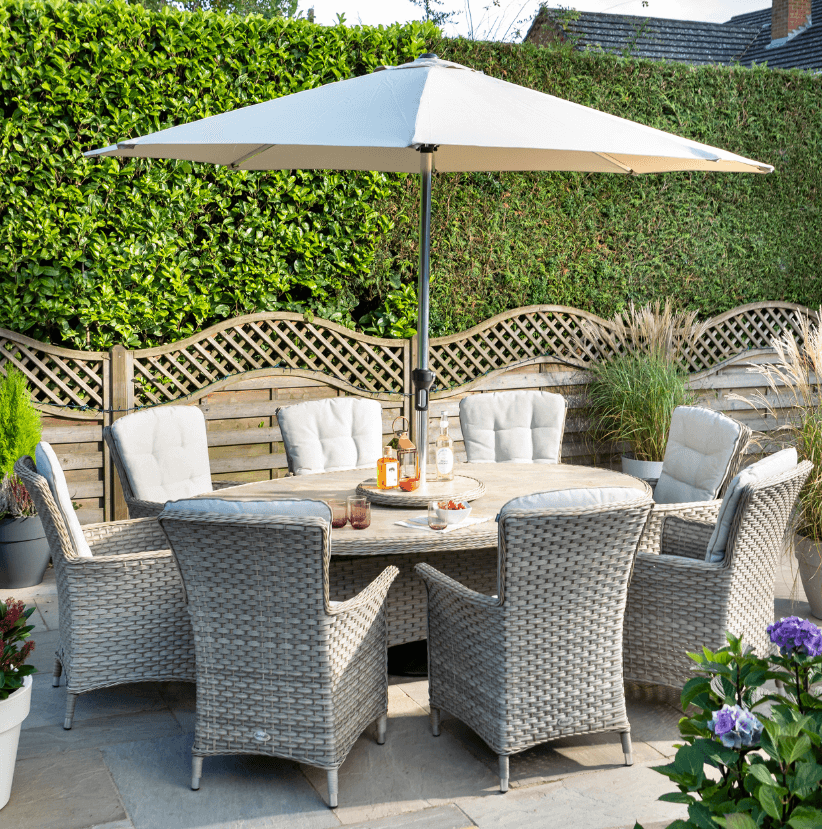 Outdoor Rope
Outdoor rope is becoming far more prominent in recent years, made from synthetic, all-weather rope and again, wrapped around a durable Aluminium frame.
They are most certainly a break away from the traditional garden furniture sets you may well have become accustomed to over the years. With a modern and sleek design.

We have added Outdoor Rope sets to our 2023 range in the form of the Sanza. With a selection of sets available, including Bistro sets, dining sets and casual dining corner units.
Finished in a modern, black colour palette, with a black marble effect glass on all tables. Added comfort comes in the form of extra thick cushions, which are also weather resistant, meaning they will hold up against those pesky British Summer Showers.
They require little to no maintenance, other than a good clean after winter. As always, we do recommend investing in a cover for these sets, but they are most definitely not a must have.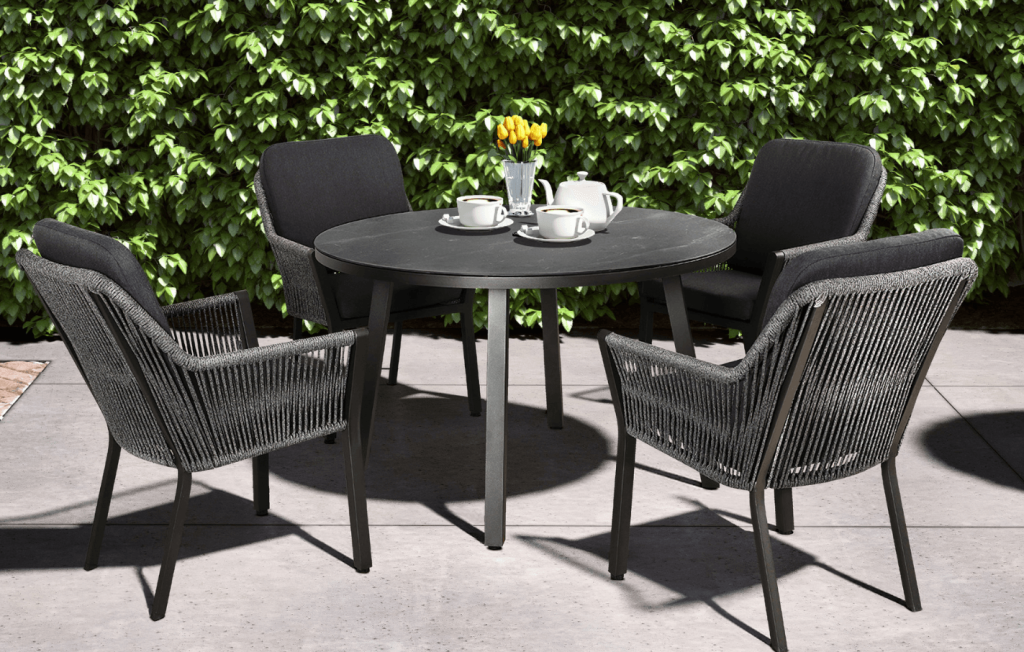 BBQs
The centre piece of any summer party, the BBQ, is a pivotal purchase when dreaming of your perfect garden. The only question is, where do you begin? Many traditionalists will always swear by the authenticity of a charcoal BBQ, though in truth the best flavour will come from a gas-powered grill.

This, in part is due to the way in which they cook. With a charcoal you only have the option of placing your meat directly onto the grill which sits above your coals. As the fat drops onto these coals, it is instantly vaporised and rises in the form of smoke. Yes, it is true some of the flavour from this fat infused smoke does make its way into the meat. But it's very easy to overcook your meats and end up with charcoal grilled meat! Whereas gas BBQs are very hard to get wrong, the flavour from the fat drips onto the flavour bars which sit directly above the burners and again, are vaporised. But, as the don't encounter charcoal, the vapours that are left are pure flavour.

With Grillstream, you get the best of both worlds. The Flavour bars are replaced with channels that allow you to use charcoal alongside your gas burner, pleasing both the traditionalist and modern Grill Chef alike. Their patented doubled layer grill design ensures that all the fat from the meat is collected via channels that run the length of each grill. Any excess fat is then directed to a channel at the base of the grill and diverted off toward a fat collection pot.

All gas BBQs run off Patio Gas bottles, which is propane gas with a clip-on bottle top. All Grillstream BBQs come with the gas connector pipe attached alongside the regulator. They also come with a 10-year limited guarantee (an essential point is that you should never remove the gas connector pipe or regulator as this will instantly void their warranty)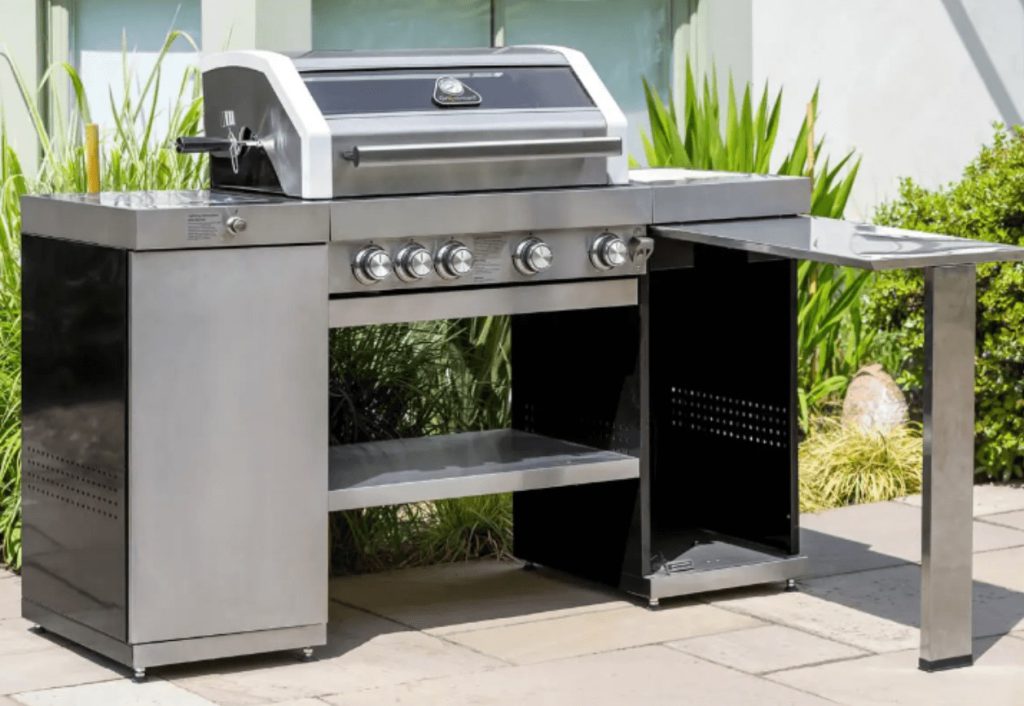 Kadai
Allow me to set the scene. It's a warm, summers night. You are joined by a group of trusted friends and family and as the night begins to draw in, you decide to light your Kadai bowl and gather around the slowly dancing flames. It's warmth giving you an overwhelming sense of comfort whilst you and yours share a drink or two and enjoy the warm night ahead.
Now, you can make that a reality with the ever-popular Kadai fire bowl. Hand made in India from recycled oil drums, the Kadai bowl is a truly unique way to make the most of your summer garden. But they are more than just a mere fire bowl, they can also be used as a grill. Coming packaged with both a high and low stand you can simply lift the bowl up onto its high stand for the night, cook your delicious meal, then as the coals begin to cool and with the help of some heat resistant gloves and a trusted friend, pick the bowl up using the rings on it's side and place the bowl into the low stand before reigniting the flames and using it for warmth as the night draws in.

Kadai bowls are available in sizes 60cm,70cm and 80cm and come packaged with high and low stand, grill, wire brush and tong set as well as a bag of Kadai beads (used to line the base of the fire bowl). They are designed to rust over time, giving them a more rustic appeal and come with a five-year guarantee.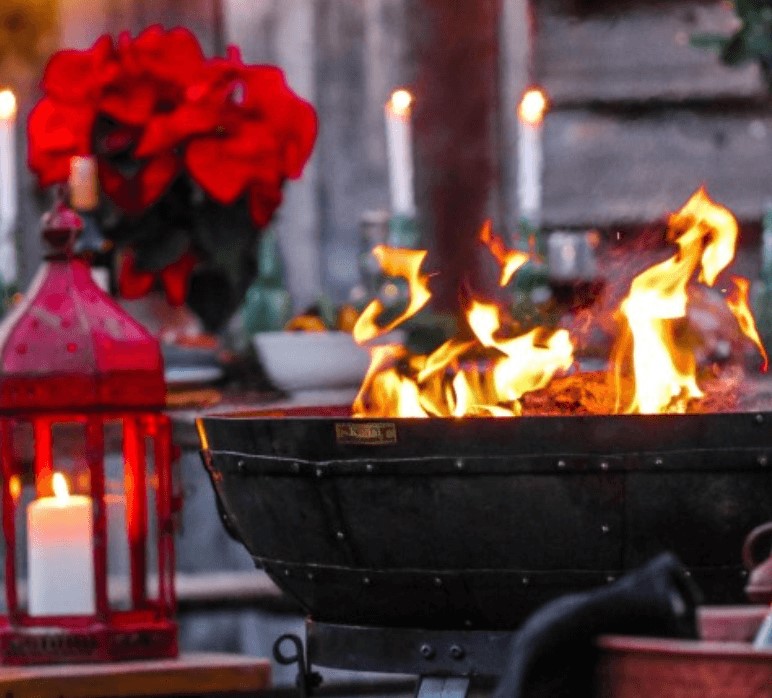 Casa Mia – Gas Chimineas
Everyone likes a Chiminea, but not everyone likes the smoke or the effect this may have on the planet. Which is why we believe the Casa Mia range of Gas Powered Chimineas is the perfect addition to any modern garden. Running off of your typical Patio Gas Bottle and producing 11.7kwh The Casa Mia range is certainly a good alternative to traditional wood fed Chimineas. Not only do they make gas powered Chimineas, but they also offer gas powered Pizza Ovens, giving you plenty of options for which to finish off your ideal garden space.