The March Garden
Article Written by Jane Earthy for Somerset Life, March 2023
For much of the year, Magnolia stellata, the star Magnolia, is unassuming to say the least, a small tree with deciduous mid-green foliage doing nothing to hint of what is to come in late winter. The first you will notice in winter is numerous flower buds starting to swell, covered in a silky soft carapace. During March these split open and a mass of starry shaped glowing white flowers emerge across the naked branches. Each flower can be flushed with pale pink towards it's centre and is gently scented – a star indeed.
Magnolia Stellata
Magnolia stellata is ideal for small gardens as it forms a compact plant some would label a shrub, some a tree.
One of the smallest Magnolias it is rightly popular as it's easy to please and can be grown in a suitable pot. It rarely grows above 2-3 metres and will be happy in any free draining soil in sun or light shade.
Perhaps plant in the centre of a lawn and underplant with some pretty dwarf narcissi such as 'Jet fire', which can be replaced later with summer bedding for colour. Another idea is underplanting with plenty of Muscari, the grape hyacinth, a mass of blue flowers contrasting brilliantly.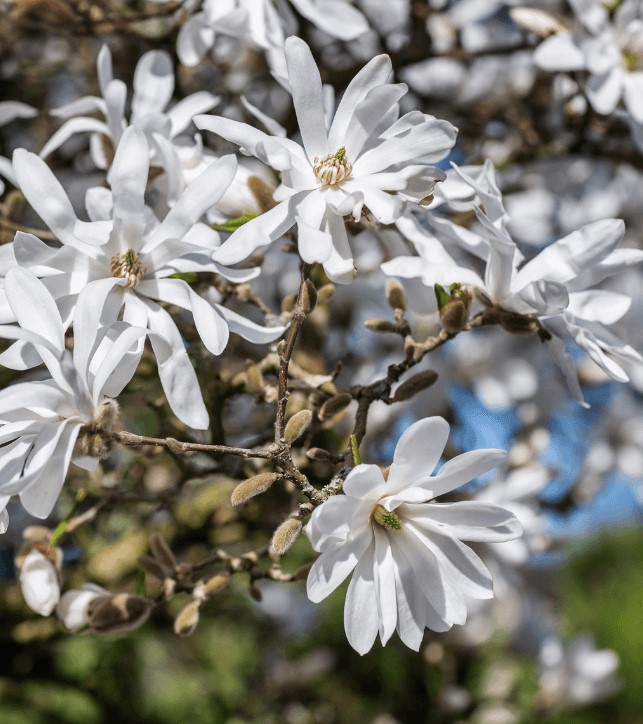 Stellata Rosea
For a softer look, there is Magnolia stellata rosea, which as its name suggests, has pale pink blooms. In all other respects it is much the same as its white relative. This is the one I have planted at home, and although its at the back of a border, it very much shines in spring before the herbaceous perennials grow up in front of it, screening some of its unostentatious foliage.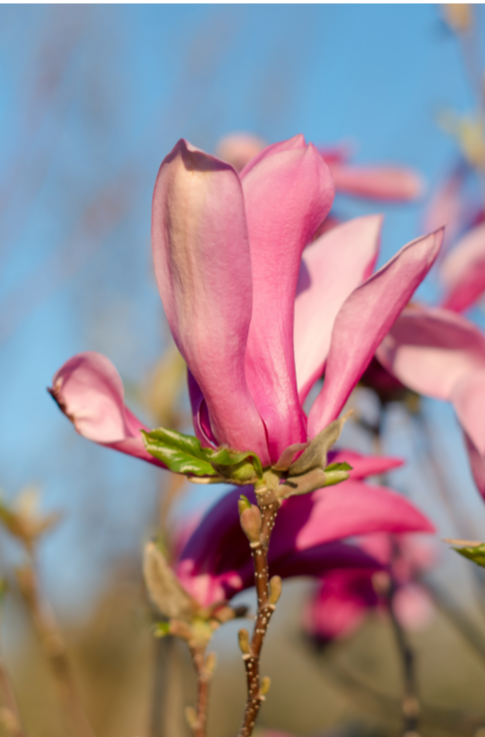 Magnolia Stellata
"Royal Star"
Magnolia stellata 'Royal Star' has white flowers, sometimes flushed pink, however each bloom has extra petals, which give the effect of being larger and almost double-flowered. A special variety should you be able to find it. A little larger than the other stellatas, still it would be eminently suitable for growing in a good-sized pot and would be a spectacular feature plant.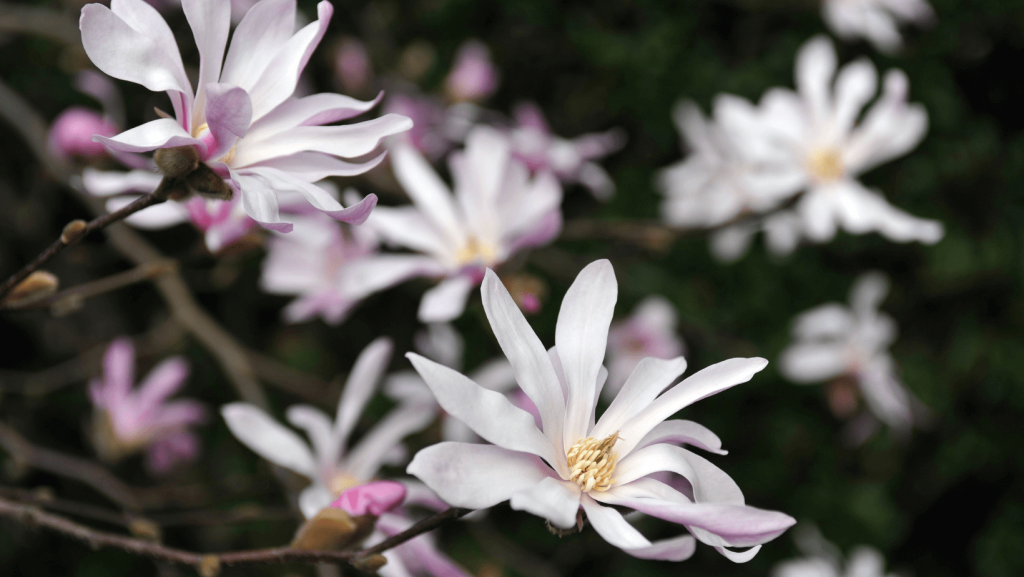 Pruning Magnolias should only be done if absolutely necessary (if there are broken or dead branches for instance) as regular pruning can reduce flowering the following year.
I would undertake this during summer, as pruning when dormant can cause sap to bleed from the cuts. Heavy pruning is possible, should it be needed, but should be carried out in stages, taking around 3 years to complete, to avoid undue stress to the plant.
I would mulch with compost after pruning, or in spring. Sometimes Magnolia stellata is grafted onto a stem to create a tree rather than a multi stemmed shrub, so check when buying if you are after one or the other.
Jobs for the March Garden
• Deadhead daffodils and other spring flowering bulbs as soon as the flowers fade, removing the flower heads and seedpods behind them. Leave the foliage to die back naturally, feeding occasionally, to give energy back into the bulb for next year's display.

• Revamp borders, lifting and dividing perennials and replanting the best pieces. Use the opportunity to change things around, clear perennial weeds and improve the soil with compost.

• Plant summer flowering bulbs such as lilies and gladioli. Start them in pots for a head start and pop the pot into the border later for instant colour.

• Prepare ground for laying turf which can be done now if the ground isn't frozen. Lawn seed sowing is best left until April.

• Check any pot grown plants and repot if root bound, using fresh compost.

• First early potatoes can be planted in the second half of March, if conditions are favourable.