Our 3 top picks for Christmas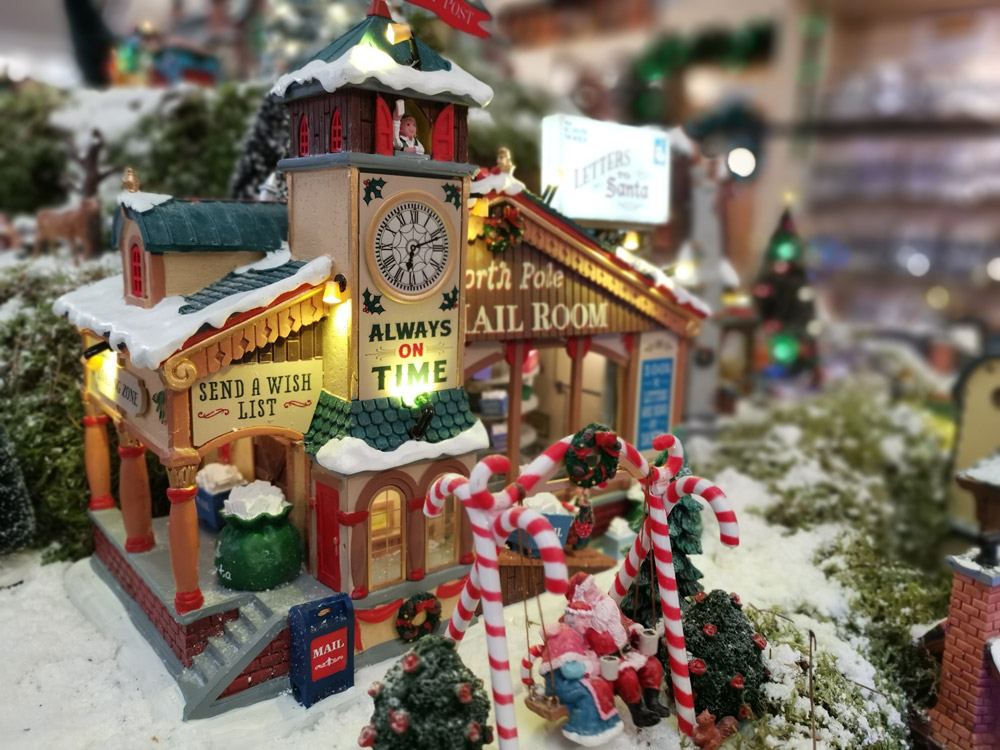 Christmas Villages
Bring the spirit of Christmas into your home with these lovingly created village scenes
Visit our store for a wide range of Christmas products
Gift ideas
Christmas just wouldn't be the same if it wasn't possible to share the experience by giving a gift.
Gifts don't have to be large or expensive. The best gifts are those given with thoughtfulness and love. Gifts are personal. Unique. Different.
At Monkton Elm we take great care in trying to source a wide range of gifts that you can't find on the high street, something that will be really special. We could list them all here, or send you a catalogue like any other mail order company but that would be too easy and wouldn't reflect your desire to find that little gift which really does say "you're special".
Festive food & hampers
Something very special happens each year in the build up to Christmas. Your taste buds start to get very very excited. How right they are!
They will soon be exposed to chocolates bursting with unusual flavours and biscuits crammed full with crunchy roasted seasonal nuts and other surprises. They will also experience the richness of fruity jams, tangy marmalade or chutney with a hint of spice. Chocolate liquors and crumbly fudge are enough to send your taste buds into an almighty spin.
At Monkton Elm we take great care and pride in selecting the widest range of the very best of festive foods which we hope will live up to the high expectations and exacting standards of your discerning taste buds.
Lights & features
Switch on your own Christmas Sparkle.
Create a stunning Christmas light spectacle at home using the very latest in LED technology. LED's (or light-emitting diodes) operate at lower temperatures and offer longer life than conventional light bulbs. They also consume less energy so are more environmentally friendly.
Importantly, they don't contain glass so are lighter, brighter and less vulnerable to vibration or breakage. That is good news if you have children or if Father Christmas slips down the chimney pot with a bump!
So if you are planning to brighten up your home this Christmas, why not pop into Monkton Elm, where you can see how the advances in LED lighting make it easier than ever to put that real sparkle into Christmas.
The Real Christmas
Our locally sourced fresh door wreaths, grave wreaths and crosses are available throughout December. With over a dozen styles and sizes to choose from you will be spoilt for choice. And to decorate your festive house, we have fresh cut Somerset holly and mistletoe too.

Our house plant section offers a vast array of colourful indoor plants and arrangements perfect for a Christmas gift. The Poinsettia, Cyclamen and Jasmine are West Country grown – definitely some of the best in the country. Sue and her team regularly make up planted arrangements. Scented Hyacinths and Paper white Narcissi are perfect for decorating your home or giving to a loved one, and we also offer a gift wrapping service
Jane and her team in the Seasonal Plant House will inspire you with their range of real Christmas gift ideas, including beautiful planted patio pots and striking evergreen garden plants, like Hellebores and Bays.

Our range of Citrus plants is perfect to enhance any conservatory, their fragrant flowers will take your breath away. This year we have our biggest range ever of Boxed Amaryllis and spring flowering bulb kits for your green fingered friends.

Our massive range of outdoor plants and fruit trees makes shopping for a keen gardener so easy.​ If you are stuck for a present idea for the gardener in your life, speak to one of our friendly team who will be only too happy to advise you.
Santa at Monkton Elm
This year we will not be operating Santa's Grotto, instead we are offering children the chance to come along and enjoy afternoon tea with Santa.
Christmas Opening Times
| | | | |
| --- | --- | --- | --- |
| Weekday | Date | Day | Opening Times |
| Wednesday | 22nd Dec |   | 9am – 5:30pm |
| Thursday | 23rd Dec |   | 9am – 5:30pm |
| Friday | 24th Dec | Christmas Eve | 9am – 4:00pm |
| Saturday | 25th Dec | Christmas Day | CLOSED |
| Sunday | 26th Dec | Boxing Day | CLOSED |
| Monday  | 27th Dec |   | 10am – 4:30pm |
| Tuesday | 28th Dec |   | 9am – 4:30pm |
| Wednesday | 29th Dec |   | 9am – 4:30pm |
| Thursday | 30th Dec |   | 9am – 4:30pm |
| Friday | 31st Dec | New Year's Eve | 9am – 4:30pm |
| Saturday | 1st Jan 2022 | New Year's Day | CLOSED |
| Sunday | 2nd Jan 2022 |   | 10:15am – 4:30pm |