Our premium grade real Christmas trees are Somerset grown. Choose from Norway Spruce, Nordmann Fir, Fraser Fir and Superblue Picea.
Christmas trees locally grown in Somerset
All our Christmas trees are grown locally on the Blackdown Hills in Somerset. This means they are cut the day before they are shipped to us meaning less time to dry out, which ultimately means less needle drop. Trees bought elsewhere may well have been cut 2-3 weeks before even going on sale. Because our trees are local, environmental transportation impact is minimised. This also helps our local economy.
Premium grade handpicked Christmas Trees
Our trees are grade 1. This means they are hand picked to be the best of the crop. Any trees that do not meet this grade are sent elsewhere. We believe this makes our trees the best value for money.
We stock cut traditional Norway Spruce along with Needle-fast Nordmann Fir and Fraser Fir. Our pot grown range includes Norway Spruce, Nordmann Fir and Superblue Picea.
All our trees are sold from our covered canopy, outside in our plant area. This area is cool enough for the trees to not dry out, but slightly warmer than their natural environment. This reduces the 'shock' felt by the tree when being taken into a warm home. This helps to keep needle drop to a minimum.
Types of Christmas tree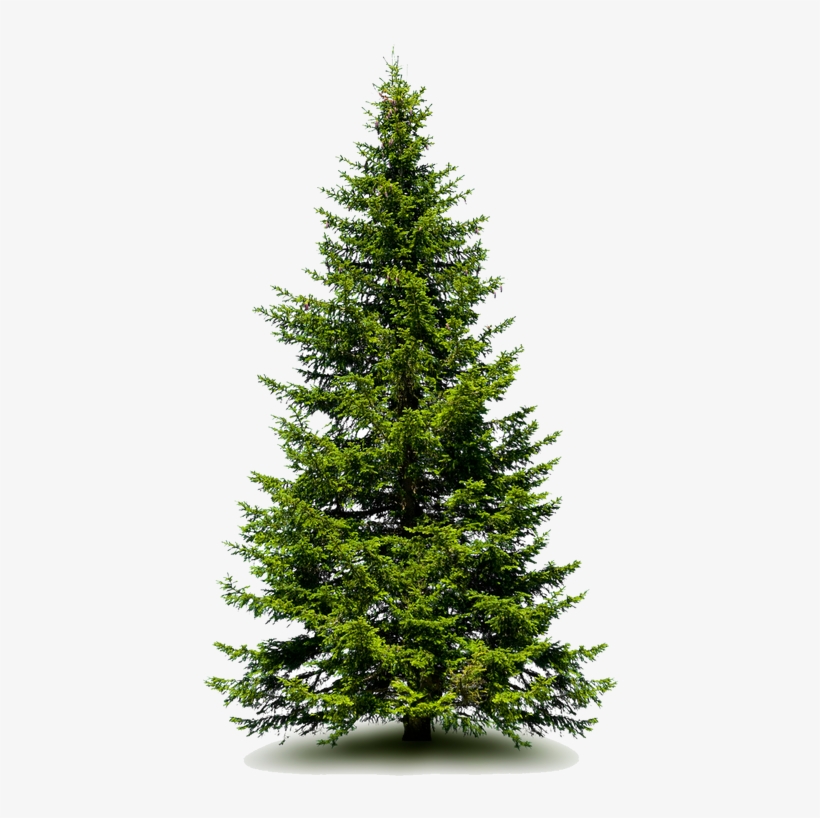 Fraser Fir
The Fraser Fir is a narrower variety of tree making it ideal for smaller spaces. It is also lightly scented, so it will bring that traditional Christmassy pine smell into your home. The Fraser has soft silvery blue foliage and has very good natural needle retention, meaning less mess to contend with!
Reasons to buy a Fraser Fir:
Narrow spaces
Lightly Scented
Good needle retention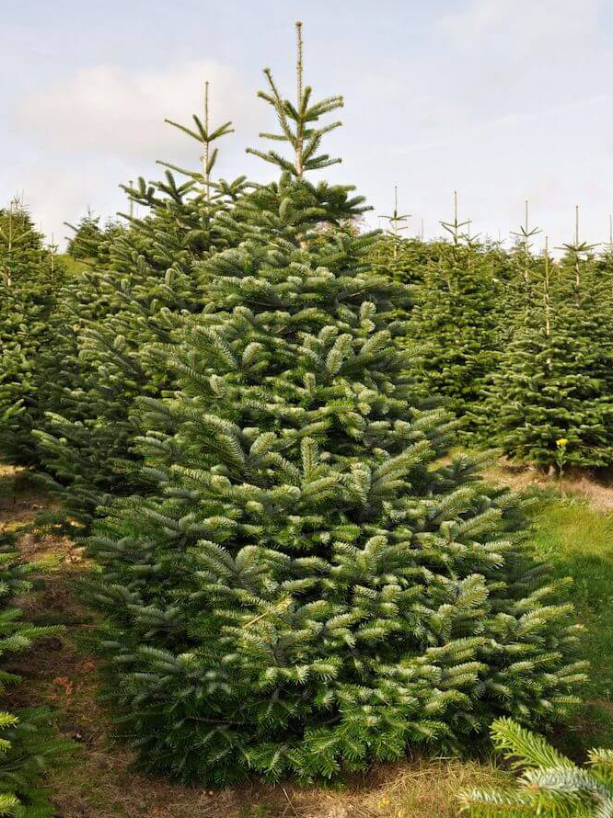 Nordman Fir
Our most popular variety of tree, and it is not hard to see why. The Nordman are the most 'full bodied' of the Christmas trees, meaning you get a lot of tree for your money. All those extra branches mean there is plenty of room to hang as many decorations as you want! Or for a more natural look, less decorations mean showing off the beautiful, soft foliage. The Nordman also offers the best needle retention of any tree.
Reasons to buy a Nordman Fir
Fullest shape
Best needle retention
Soft foliage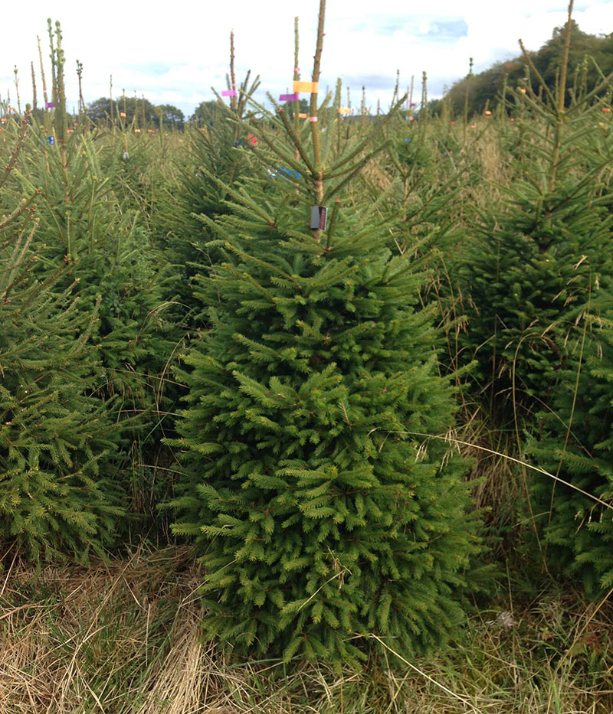 Norway Spruce
A traditional tree in every sense of the word, and also the cheapest that we sell. You will find that the Norway spruce is the more 'prickly' of the Christmas trees, and is slightly less dense than the other varieties. This means plenty of space on the tree for large hanging decorations. The Norway is also the strongest scented of all the trees, bringing that wonderful Christmas pine smell into your home.
Reasons to buy a Norway Spruce
Cheapest variety
Most fragrant
The 'traditional' variety
Alternatives to real Christmas trees
As the years have gone on, Artificial Trees have steadily improved in quality and design. In some cases, it can quite hard to spot that they're Artificial at all. 
Not only this, but more and more people are starting to look at Artificial Trees as more of an "investment", a one time purchase opposed to buying a real tree year after year. Ultimately saving money in the long run. 
We have a wide range of Artificial Trees, ranging from Canada Spruce trees to Fir trees, available both online and in-store
How do I get my Christmas tree to keep its needles?
The most important thing to remember with a Christmas tree is like a bunch of cut flowers. When it starts to dehydrate it will slowly die and drop its needles. You will never stop 100% of needle dropping as your home is not the natural environment for the tree, but keeping your tree hydrated will help reduce needle drop significantly. There are a number of steps you can take to prevent this…
As soon as the main trunk of a tree is cut it will start to 'heal' itself at the cut. Part of this process is to seal the cut off, which in turn inhibits the ability to soak up water. The best way to fight this process is to have as fresh a cut as possible, just before siting your tree, and making sure that as soon as it is cut it is submerged in water. Our sales team are happy to cut your tree base for you before you purchase, but the best thing you can do is to cut the base yourself, giving you the freshest cut possible.
We also recommend that you stand your tree in a bucket of water when you get it home. This will allow it to absorb plenty of water, ready to stand proud in your Christmas display. You will be amazed at just how much water your tree will absorb and retain. It will also make you tree much heavier. Generally, a heavy tree is a healthy tree that will stay green and retain its needles to Christmas day and beyond. While you are undertaking this process, it is a good idea to situate your tree somewhere either cool, or just a little warm. In a garage, a cool conservatory or under cover close to your warm house is ideal. This is a good halfway temperature between its natural cold outdoor environment and the warmth of the inside of your home and will prevent the tree going into 'shock' caused by a sudden, large temperature change.
The final thing to consider to keep your tree fresh over the festive period, is where you erect your tree in your home. Avoid strong sources of heat such as radiators or heaters. Always use a stand that can hold water and make sure that you check the water level every day. As soon as your tree has no water it will start to heal, and therefore start to die. As long as you follow these tips, your tree will look and smell delightful for weeks.
How to look after a real Christmas tree
Always trim 2cm or so off the bottom of the tree just before erecting, to allow for water absorption
Stand in a bucket of water for a couple of hours before situating
Where possible gradually acclimatise your tree to indoor temperatures by first storing in a cool garage, conservatory or sheltered outdoor area
Never place near strong heat sources such as radiators
Always keep your tree watered for the best needle retention
Where to find us